34 Years Ago: Bon Scott Found Dead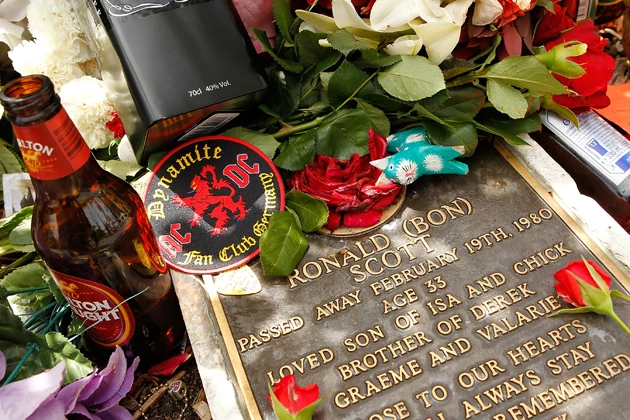 On Tuesday, Feb. 19, 1980, Bon Scott was found dead. The legendary AC/DC front man had been out drinking with friends, but the casual evening took a terrible turn as Scott passed out in his car, and ultimately choked to death on his own vomit. He was only 33 years old.
Throughout 1979, AC/DC had been a band on the rise. 'Highway To Hell,' the band's 7th album, had truly put them on the map, especially in America. The accompanying tour had also proved to be a huge success. On Sunday, January 27, 1980, the final show of the 'Highway To Hell' tour took place at The Gaumont Theatre in Southampton, U.K. This would also prove to be Bon's final show with the band.
"For us it was like losing a member of your family," guitarist Angus Young said in an interview about the singer's death, "It's very, very difficult to go through something like that. Not only is it your friend, it's also somebody you've been working with all that time."
Alistair Kinnear, a friend of Bon's who was out with him that night, told Metal Hammer magazine in 2005, "I left him in the car and rang his doorbell. I was unable to wake Bon, so I rang Silver (Smith, a former girlfriend of Bon's). She said he passed out quite frequently and that it was best just to leave him sleep it off."
Kinnear then explained how he had put the car seat back so he could lie flat, but the next morning, he found him still in the car, but not breathing. He rushed him to King's College Hospital, but Bon was pronounced dead on arrival.
In some corners, the actual events of the evening have long been up for debate. Also at the bar that night was original AC/DC drummer Colin Burgess, who told author Murray Engleheart, in the band bio 'AC/DC: Maximum Rock & Roll,' "I remember us leaving and he was alright — like he wasn't drunk at all. And we went home, and the next day he's dead! To me it's just a really, really strange thing," adding, "I can definitely say, to this day, that when we left, he was definitely not drunk at all." One thing was for certain, one of the most dynamic front men in rock and roll history was gone.
The band had already begun working on songs for the follow up to 'Highway To Hell,' and Scott was due to start adding to the process that very next day. Contrary to myth and legend, there are no tracks in the vaults with Scott's vocals on any of the material on 'Back In Black.' Ultimately, the album would end up being a tribute to Scott.
In April 1980, the band hired Brian Johnson as their new singer, and finished work on what would become 'Back In Black.' "We wanted just a simple black cover," Angus said in the VH1 'Behind The Music' documentary, "we wouldn't have even done him justice in words, even the bell in the beginning of 'Hell's Bells' was our little tribute."
Released in the Summer of 1980, 'Back In Black' went on to make AC/DC international superstars, and remains one of the biggest selling albums of all time.
Source:
34 Years Ago: Bon Scott Found Dead
More From Southern Minnesota's Best Rock