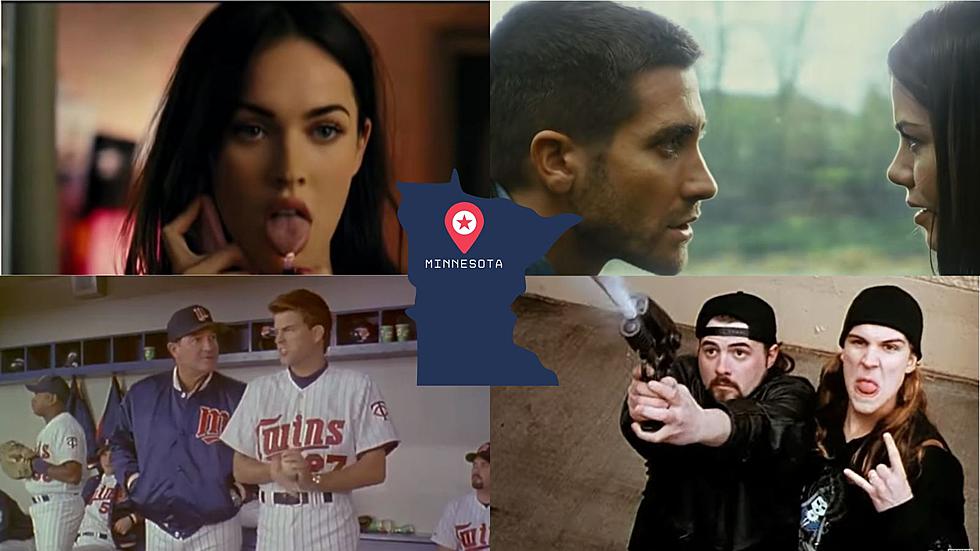 20 Movies You Didn't Know Were Filmed In Minnesota
20th Century Studios
via YouTube, The Dollar Theatre via YouTube, Rotten Tomatoes Classic Trailers via YouTube, Canva
If you love to watch movies and either live or have been to Minnesota, there's a pretty good chance you've seen the Land of 10,000 Lakes on the big screen.
Growing up, movies have been a big part of my life. It was something my dad and me did every weekend. We would go grab a bite to eat and then see a movie. The kind of bonding I loved growing up. Most of the places we went whether it was a restaurant like the ICO Burger Station on Maple Grove Road in Hermantown or even a theatre like Cinema 8 don't exist anymore, but I still reminisce about the simpler times.
Not only do I love movies, but I kind of loved them more when they were filmed right here in our beautiful state. Most recently there was 'Merry Kiss Cam' that was filmed a few blocks away from us here at the radio station in Downtown Duluth. You can check that film out on Hulu. There are also some famous films or little-known movies with famous actors that were filmed in Minnesota you may not realize.
Now, I'm not talking about films like 'Purple Rain', 'A Prairie Home Companion', 'Jingle All The Way', 'The Might Ducks', or even 'Fargo'. Everybody knows those movies were filmed in the North Star state. Let's take a journey and see if I can surprise you with these films that were filmed right here in our beautiful state.
20 Movies You Didn't Know That Were Filmed In Minnesota
'Jennifer's Body' (2009)
Oh, yes. The movie is about Megan Fox playing a cheerleader who turns into a succubus demon and began devouring her male classmates. The film also stars Amanda Seyfried, and Adam Brody, and even appearances from Chris Pratt and J.K. Simmons.
Most of the movie was filmed in British Colombia, however, the waterfall sequences were filmed at Devil's Kettle Falls in Minnesota according to IMDB.
---
'Source Code' (2011)
The action drama starring Jake Gyllenhaal and Michelle Monaghan is about a soldier waking up in someone else's body only to discover he is part of a government experiment to find the bomber on a commuter train with very little time to do so.
---
'Young Adult' (2009)
This story follows a divorced fiction writer played by Charlize Theron who returns to her hometown in Minnesota looking to rekindle a spark with her ex-boyfriend. Alongside Theron, you'll find Patrick Wilson, Patton Oswalt, and more in this comedy drama.
Not only is the film based in Minnesota, but there were also several scenes filmed in the state including the Denny's in Rodgers and a few places throughout Minneapolis. Fun fact, writer Diablo Cody is from Minnesota as well.
---
'Major League: Back To The Minors' (1998)
You won't find Charlie Sheen as "Wild Thing" in this film as it is the third installment of the franchise. This one is about a not-so-good minor league team that gets a new manager who has to deal with all the different personalities and an aging minor league pitcher.
A few scenes were filmed in Minnesota including the Grand Hotel in Minneapolis and at the Hubert H. Humphrey Metrodome where the Minnesota Twins used to play. They even play the Twins in the movie.
---
'Sugar & Spice' (2001)
This comedy crime movie is about a popular high school cheerleader who becomes pregnant and turns to crime to support her lifestyle. You'll find a young Marley Skelton and James Marsden in this.
The entire movie was filmed in Minnesota including the Food Valley in New Brighton, the Eastview High School in Apple Valley, Arlington High School in St. Paul, Anoka High School, and more. (Just a heads up there is language and violence in the clip below)
---
'Wooly Boys' (2001)
Starring legendary actors Peter Fonda and Kris Kristofferson, this film is about a mischievous adventure with a sheep rancher and his teenage grandson.
The movie was filmed in both North Dakota and Minnesota. However, you can see quite a bit of Minnesota in the clip below:
---
'Joe Somebody' (2001)
Tim Allen stars in this comedy when he decided to fight back after getting beat up by a coworker in front of his daughter during bring your kid to work day.
The movie was filmed at numerous Minnesota locations including: the Nicollet Mall in Minneapolis, a playground in St. Paul, Grumpy's Bar & Grill in Minneapolis, the Target Center, and more.
---
'Mallrats' (1995)
The film introduced me to the characters Jay and Silent Bob (I saw this movie before 'Clerks') Kevin Smith wrote and directed this film that stars Jason Lee, Shannon Doherty, Jeremy London, and so much more including an appearance from Ben Affleck.
The movie was filmed primarily at the Eden Prairie Center Mall. My dad was opening the Sbarro's store at the time of filming and told me that they filmed a lot of the movie at night.
---
'I Am Not A Serial Killer' (2016)
Christopher Lloyd stars in this thriller about a troubled teen with homicidal tendencies as he hunts down a killer.
It was filmed throughout several Minnesota cities including: Virginia, Hibbing, Minneapolis, St. Paul, and Golden Valley.
---
'360' (2011)
This romance thriller stars Jude Law, Rachel Weisz, and Anthony Hopkins as the film tells an interconnected tale of romantic life in the 21st century.
The movie was filmed in several countries such as Slovakia, Austria, and France, However, there were scenes filmed at the MSP International airport and the prison in Stillwater.
---
'Drop Dead Fred' (1991)
Phoebe Cates and the legendary Rik Mayall star in this comedy about a young woman whose life wasn't going as she pictured and gets greeted by her crazy imaginary friend from her childhood.
Several filming locations throughout Minnesota include Paisley Park Studios in Chanhassen, Harriet Island in St. Paul, Nicollet Mall in Minneapolis, and more.
---
'Dear White People' (2014)
A social satire that follows the lives of four students at an Ivy League School where a controversy breaks out over a black-face party thrown on by white students. The film stars Tyler James Williams, Tessa Thompson, Dennis Haysbert, and more
While it takes place at an Ivy League College, it was filmed at the University of Minnesota. Other film locations include the Women's Club of Minneapolis, and St. Paul.
---
'Overnight Delivery' (1998)
Paul Rudd plays a man who is convinced his girlfriend is cheating on him. So he writes her a letter with a picture only to find out he was wrong about the cheating. With the help from a new friend played by Reese Witherspoon, he now has 24 hours to drive across the country to stop the package and prevent a disaster.
Several Minnesota locations include: the University of St. Thomas in St. Paul, the Embassy Suites Downtown in St. Paul, Ground Zero Nightclub in Minneapolis, a gas station in Waconia, and more.
---
Joe Pesci, Brendan Fraser, and Patrick Dempsey star in this comedy about a Harvard student finding himself at the mercy of a homeless man's demands when he holds his important papers hostage as he is trying to graduate with honors.
This movie was filmed at a few universities throughout the country including the University of Minnesota.
---
'House of Tomorrow' (2017)
The film stars Asa Butterfield and Alex Wolf as two friends who try to survive high school. You can also find Nick Offerman and the voice of Fred Armisen in the film as well.
Another movie filmed in various Minnesota locations with the main one being at Dennis Johnson's dome home north of the Twin Cities. Other locations were Macalester College in St. Paul, Robbinsdale for the hospital scene, and more.
---
'Grumpier Old Men' (1995)
Our favorite angry old men Jack Lemmon and Walter Matthau return to save their favorite bait shop from turning into an Italian restaurant.
Maybe this one isn't a surprise as the first film was also filmed in Minnesota. Locations include the Coopers Super Valu in St. Paul, the Marine on St. Croix, the 331 Club in Minneapolis, fishing scenes in Stillwater, and more.
---
'Drop Dead Gorgeous' (1999)
Kirsten Dunst and Denise Richards star in this hilarious comedy where people will go to any length just to win a small-town beauty pageant.
So many Minnesota locations were used in this film such as the Eden Prairie Center parking lot, the Chaska School of Beauty, Main Street in Waconia, a trailer park in Lakeville, and so much more.
---
'Twenty Bucks' (1993)
Brendan Fraser finds himself in Minnesota once again, this time in a film about a twenty-dollar bill and how it weaves in and out of various people's lives. The film also stars Linda Hunt, Elizabeth Shue, Steve Buscemi, and more.
A few outside scenes were filmed in Minneapolis as well as at St. Anthony Falls, and the MSP International Airport.
---
'Beautiful Girls' (1996)
A comedy with an all-star cast including Matt Dillon, Natalie Portman, Timothy Hutton, Rosie O'Donnell, Uma Thurman, and more. The film is about a man who is at a crossroads in his life and decides to return home for his high school reunion.
Several Minnesota locations include the Bryant Lake Bowl in Minneapolis, the Divine Redeemer Hospital in St. Paul, Lake William in Shorewood, the Marine General Store in St. Croix, and more.
---
'Airport' (1970)
Burt Lancaster and Dean Martin star in the Oscar-nominated disaster film about various personal problems aboard an airplane while a bomber is on board, and the closest airport is almost closed due to snow.
No surprise that the movie was filmed at the MSP International Airport.
Did you know these celebrities were born in Minnesota?