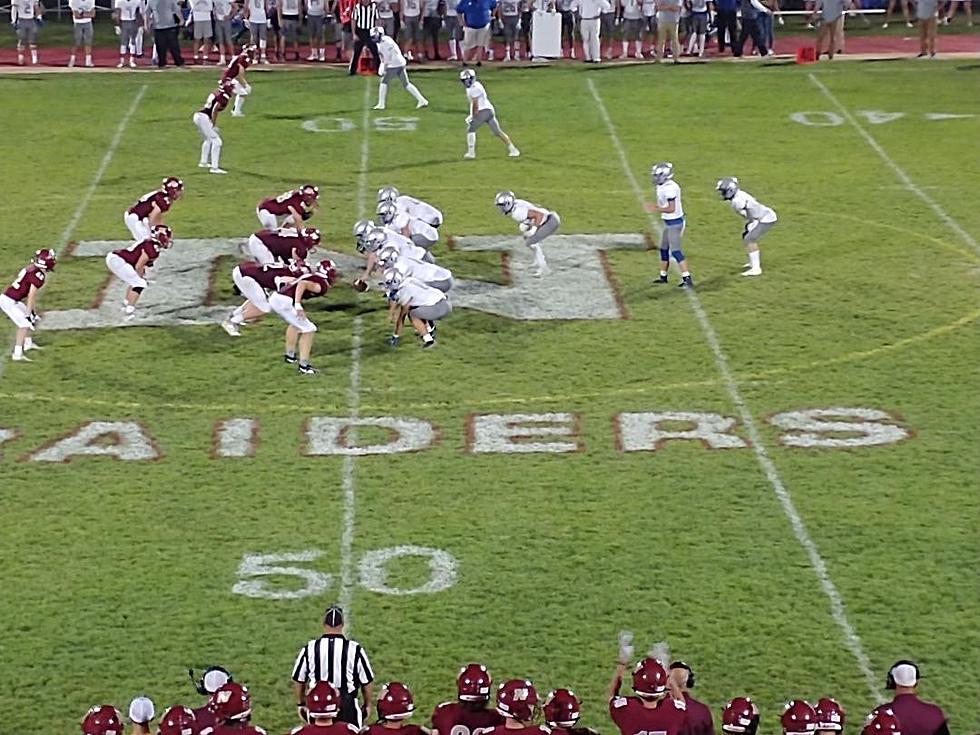 7 Prep Football Matchups to Watch [Owatonna at New Prague]
Roy Koenig/TSM
Week seven of the high school football season is the final Friday Night Lights of the regular season. Teams will wrap up their eight-game schedule Wednesday, October 20 with playoffs starting Tuesday, October 26 for most teams.
OWATONNA (4-2) AT NEW PRAGUE (4-2) on AM 1390 KRFO / 94.7 FM
The Huskies wrapped up a first-round playoff bye and second seed in Section 1-5A with their homecoming victory over Rochester John Marshall last week. OHS can secure a winning record on Friday night at New Prague. As reported by Jon Wiesbrod on Owatonnafootball.com, the teams have some vary similar numbers for the season. They are very close on points for and points allowed and are tied for No. 16 in the QRF standings. The Trojans are more prone to run, while OHS has relied a bit more on passing overall.
NRHEG (3-3) AT BLOOMING PRAIRIE (6-0) on Kat Kountry 105 FM 
It's another throwback Gopher Conference rivalry renewal. The teams haven't played since 2014. BP is riding a 24-game winning streak.
TRITON (5-1) AT CALEDONIA (2-4)
While Caledonia is having a rough season, they are still the reigning champs for the time being. The Cobras have kept fans on the edge of their seats all season. Four of their games have been decided by two points or less, with two of those going to overtime. Triton suffered a one-point loss to Chatfield (5-1) early in the season, meaning a likely second seed in 1AA.
MEDFORD (0-6) AT ST. CLAIR / MANKATO LOYOLA (2-4)
The Tigers went to St. Clair a couple of years ago and upset the Crusaders in the playoffs. Medford needs a win to avoid a first-round playoff game against Blooming Prairie, who incidentally they play next Wednesday.
PLAINVIEW-ELGIN-MILLVILLE (5-1) AT CANNON FALLS (5-1)
Lake City (7-0) won Thursday night and has the inside track for the top seed in Section 1AAA, having already beaten PEM. Cannon Falls goes to Lake City next wee.
MANKATO WEST (6-0) AT NORTHFIELD (3-3)
The top-rated Scarlets can't afford a stumble. They are tied with Chaska for the top record in Section 2-5A. West plays Mankato East next Wednesday at MSU-Mankato.
ROCHESTER CENTURY (1-5) AT ROCHESTER JOHN MARSHALL (1-5)
The winner will likely host a playoff rematch of the same two teams in the Section 1-5A quarterfinals.
Enter your number to get our free mobile app
LOOK: 50 famous memes and what they mean
With the infinite number of memes scattered across the internet, it's hard to keep track. Just when you've grasped the meaning of one hilarious meme, it has already become old news and replaced by something equally as enigmatic. Online forums like Tumblr, Twitter, 4chan, and Reddit are responsible for a majority of meme infections, and with the constant posting and sharing, finding the source of an original meme is easier said than done. Stacker hunted through internet resources, pop culture publications, and databases like
Know Your Meme
to find 50 different memes and what they mean. While the almost self-replicating nature of these vague symbols can get exhausting, memes in their essence can also bring people closer together—as long as they have internet access.