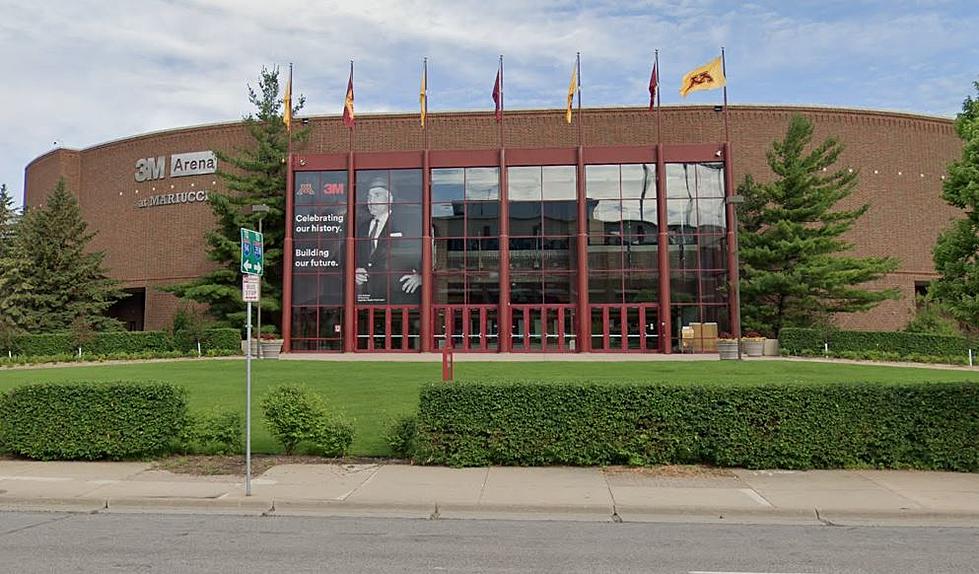 A Major Change Is Coming To 3M Arena at Mariucci Next Year
Image Credit: Google Maps
While the hockey season isn't done, as the postseason is about to begin, there are some farewells being offered up across the NCAA landscape for one feature of a Minnesota hockey arena. This was the last year in which the University of Minnesota will use a larger sheet of ice, next year the rink will be closer to an 'NHL' sized rink rather than a larger Olympic style.
The University of Minnesota Men's Hockey Team posted a farewell photo of the ice sheet at 3M Arena at Mariucci.
The caption under the photo of a packed arena was simple but effective.
Farewell to the big sheet 
The ice sheet was one of the largest being used in the NCAA this year. According to the Rinkytown blog in June of last year, the University of Minnesota Regents approved a 14-million dollar project that would:
"Upgrade the ice plant that is used for the arena and for adjoining Ridder Arena. Included in the funding request were detailed plans to shrink the ice sheet from its current dimensions (200 feet long by 100 feet wide) and add some "on the glass" seating.
The project, which is expected to happen a year from now, will leave the Gophers men with an ice sheet that is larger than standard NHL size (200' x 85') and will likely be a hybrid closer to 200' x 92'. The renovations will also change the radius of the corners of the rink, which are currently close to square, to make them more gradual."
CollegeHockeyNews.com wrote in 2018 that there were 9 NCAA schools using the larger 'Olympic' size rinks, those schools were;
Alaska, Alaska-Anchorage, Colorado College, Massachusetts, Minnesota, New Hampshire, Northern Michigan, St. Cloud, and Wisconsin
Many of those schools listed in 2018 have or have considered shrinking the sheet of ice down to a size that is closer to the NHL, some people claim the larger size makes a difference in style of play, while others claim it doesn't.
Will it make a difference for the home and visiting teams? Let us know on our FREE app.
30 famous people you might not know were college athletes
Stacker
dug deep to find 30 celebrities who were previously college athletes. There are musicians, politicians, actors, writers, and reality TV stars. For some, an athletic career was a real, promising possibility that ultimately faded away due to injury or an alternate calling. Others scrapped their way onto a team and simply played for fun and the love of the sport. Read on to find out if your favorite actor, singer, or politician once sported a university jersey.
LOOK: 50 famous memes and what they mean
With the infinite number of memes scattered across the internet, it's hard to keep track. Just when you've grasped the meaning of one hilarious meme, it has already become old news and replaced by something equally as enigmatic. Online forums like Tumblr, Twitter, 4chan, and Reddit are responsible for a majority of meme infections, and with the constant posting and sharing, finding the source of an original meme is easier said than done. Stacker hunted through internet resources, pop culture publications, and databases like
Know Your Meme
to find 50 different memes and what they mean. While the almost self-replicating nature of these vague symbols can get exhausting, memes in their essence can also bring people closer together—as long as they have internet access.
LOOK: TV Locations in Every State