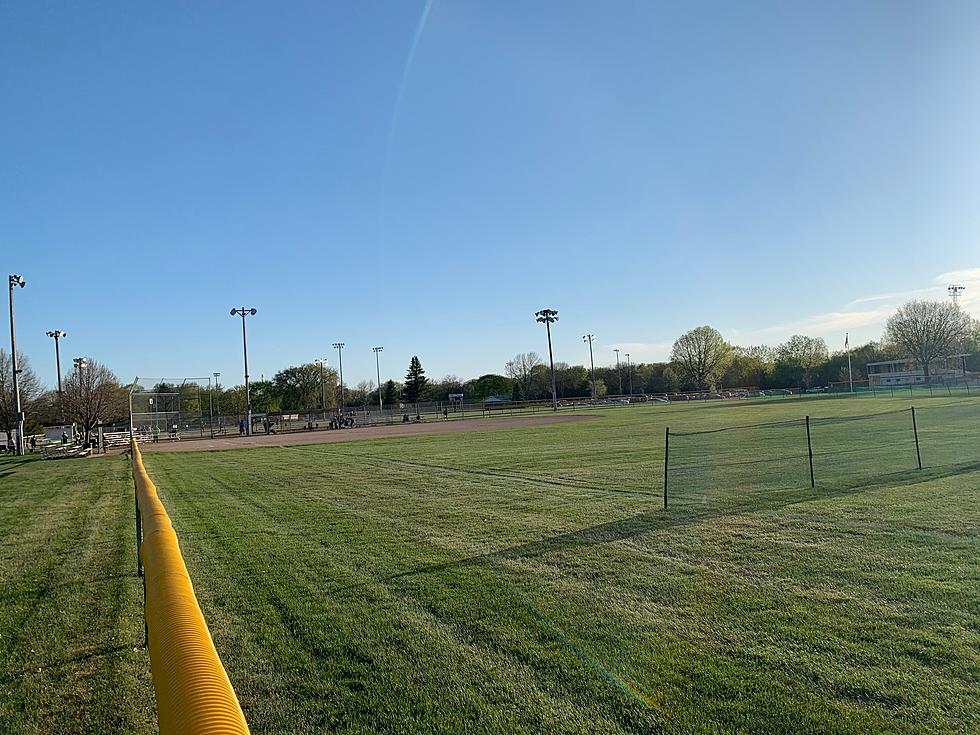 Falcons Fastpitch Cruises Over Austin
Alexander Park Diamond #4 Home of Faribault Falcons. Photo by Gordy Kosfeld
The Faribault Falcons dominated the Austin Packers 17-1 in four innings at Alexander Park in Faribault today.
The Packers scored their lone run in the first inning when their first batter hit a single to right field, stole second base and scored on a RBI single.  Six batters came to the plate
After that inning Faribault pitcher eighth grader Alayna Simon settled in and proved you don't have to be  strikeout pitcher to be effective.  Simon had 2 strikeouts in the four innings.  The key statistic was no walks. She allowed 4 hits in the 4 innings according to the Falcons scorebook.
Faribault scored twice in the bottom of the first when freshman Reagan Drengenberg walked to start the inning. Senior Makenna Smith tripled to score Drengenberg.  The triple came on a 3-0 count.  Senior Alli Velander cracked a 2-2 count double to score Smith and the Falcons never looked back.
In the bottom of the third inning following a strikeout to start the inning Faribault scored five more runs.  There was a walk and hit batter before Simon cranked a  RBI double. Junior Alexia Anderson had an RBI single.  #9 hitter 8th grader Jamie Adamek coaxed a walk.  Drengenberg singled, Smith singled in two runs on a 3-0 count.
The game ended in the bottom of the 4th inning afte a 10 run inning with every person in the batting order scoring.  Thirteen batters came to the plate.  Velander was safe on an error to start the inning, singled later in the inning and scored 2 of the runs.
Senior Nadia Hullett singled and recorded the first out of the inning as the 11th batter of the frame.  Drengenberg had a two RBI double in the onslaught.   The freshman finished the day with two singles, a double and walk in four trips to the plate.  She scored three times.
Velander was on base four times.
I counted 16 Faribault hits in the game according to their scorebook.
The Falcons are now 2-5.  Austin is 0-11.  Both of Faribault's wins have come against the Packers.
The Falcons have a doublheader in Red Wing Thursday.  The first pitch of first game is 4:00 p.m.
Other Big Nine Fastpitch scores:
Northfield 15  Rochester John Marshall  2
Mankato West 14   Rochester Mayo  3
Winona  15   Red Wing  3
Owatonna  4  Rochester Century  0
Big Nine Baseball scores:
Mankato East 5  Albert Lea  4
Northfield  4  Rochester John Marshall  3
Owatonna  4  Rochester Century  1
Rochester Mayo  5  Mankato West  5
Maybe you share your birth year with one of these people.
LOOK: The Most Famous Actor Born Every Year