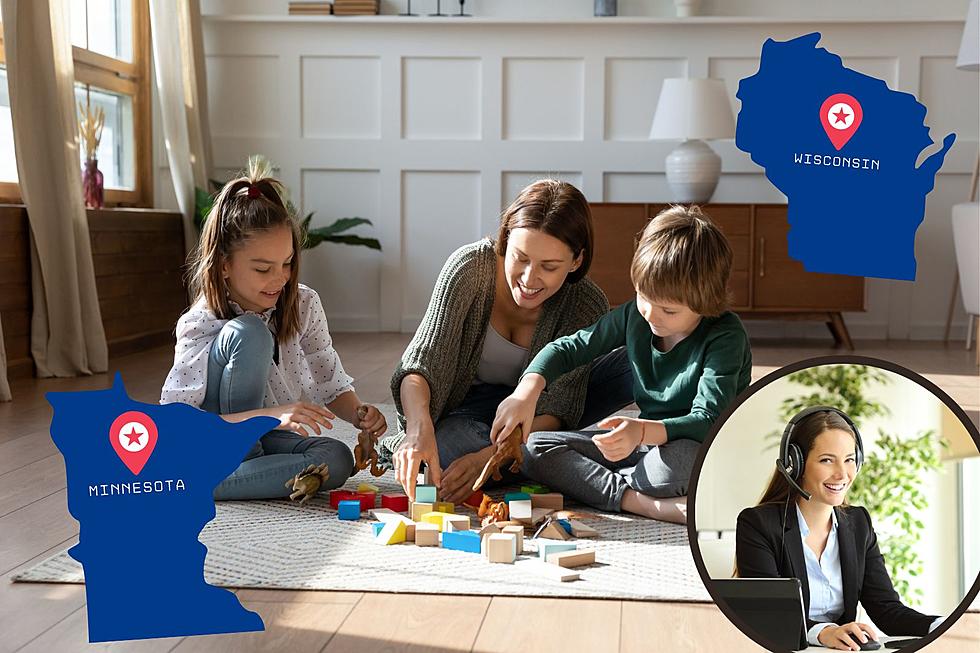 How Minnesota and Wisconsin Became Two of the Best States for Working Moms
Thinkstock
It's coming up on Mother's Day so while we admire all of the hard work that moms do all throughout the year, this month imparticular we're reminded to shout out the moms in our life. A new study that came out reveals which states are the best for working moms and which states are the worst. Thankfully, Minnesota and Wisconsin are two of the best!
The study ranked all 50 states plus DC from best for working moms to worst for working moms. This study was done by Wallethub and in order to determine the rankings they had "17 key metrics" they looked at. Some of those are child care, professional opportunities, work-life balance, and gender pay gap.
10 Worst States for Working Moms
Based on their research, these are the 10 worst states for working moms:
10. Arizona
9. Nevada
8. Oklahoma
7. New Mexico
6. Idaho
5. West Virginia
4. Mississippi
3. Alabama
2. South Carolina
1. Louisiana
So according to their research, Louisiana is the worst state for working moms.
10 Best States for Working Moms
Now let's take a look at the 10 best states for working moms, the places that working moms would love to be:
10. Delaware
9. Maine
8. New Jersey
7. Vermont
6. Minnesota
5. Wisconsin
4. DC
3. Connecticut
2. Rhode Island
1. Massachusetts
Minnesota came in as the 6th best state for working moms, which is awesome! Our top metric was child care, we actually came in as the number one state for child care. We also ranked highly for professional opportunities for moms, coming in at number nine.
Then Wisconsin came in just above Minnesota at the number 5 best state for working moms. Their best rankings were in professional opportunities, coming in at number 3, and having the third lowest gender pay gap, behind Delaware and Rhode Island.
Speaking of moms, don't forget to nominate your mom, the mom in your life, or yourself if you're a mom, for our Mother's Day Makeover!
READ MORE: Mother's Day Makeover
The 25 Best Places to Live in Minnesota
Stacker
compiled a list of the best places to live in Minnesota using data from
Niche
. Niche ranks places to live based on a variety of factors including cost of living, schools, health care, recreation, and weather. Cities, suburbs, and towns were included. Listings and images are from
realtor.com
.
On the list, there's a robust mix of offerings from great schools and nightlife to high walkability and public parks. Some areas have enjoyed rapid growth thanks to new businesses moving to the area, while others offer glimpses into area history with well-preserved architecture and museums. Keep reading to see if your hometown made the list.