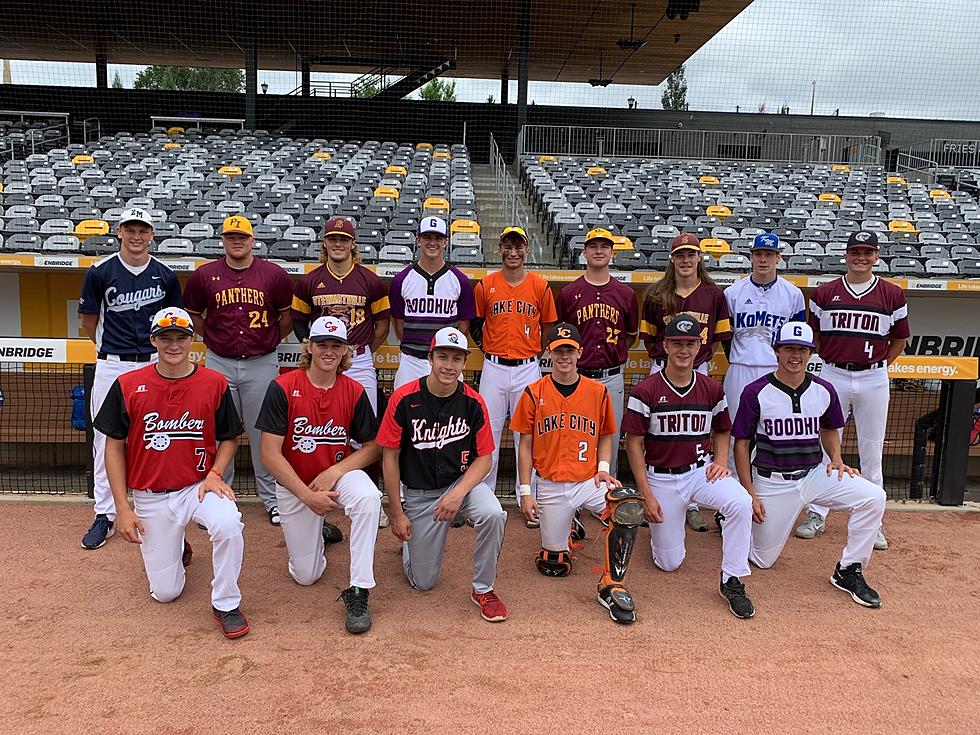 HVL All-Star 2020 Seniors Play at CHS Field
HVL 2020 Senior All-Star Baseball Team at CHS Field. Photo provided by Bucky Lindow
Minnesota high school baseball players never had an opportunity to play even scrimmages within their own team this past spring.  The Minnesota High School Baseball Coaches Association and St. Paul Saints have put together a 2020 Senior Salute Baseball Tournament.
Hiawatha Valley League baseball coaches chose a team to compete in the tournament being held at CHS Field in St. Paul and University of Northwestern in Roseville.
Cannon Falls Head Baseball Coach Bucky Lindow says the players were chosen based on play from previous years because there was no baseball played spring season.
Today the HVL All-Stars were defeated by a combination Osseo/Totino Grace team 10-0 in 6 innings.
Derek Lilledahl of Triton threw 4 innings.  Jack Dommeyer of Cannon Falls went an inning and Jake Wholers of Lake City threw to 4 batters.
Osseo/Totino Grace scored three runs in the second, third and fifth innings and a run in the 6th to end the game.  The HVL was held to 2 hits in the game.  Those were stroked by Dylan Las of Pine Island and Ethan Schafer of Goodhue.
Coach Lindow says his team had just a couple of guys whose primary position was in the outfield.  He said Goodhue players Schafer and Conor O'Reilly "did a nice job running down fly balls."  He added Nick Mohs of Stewartville and Las made "solid plays on infield pop ups."
Lindow says, "The chance to play at CHS Field was a great experience for the kids.  Our squad truly enjoyed that facility!'
The pool play tournament consists of 24 teams.
Monday the HVL lost to Minnehaha/Holy Angels/Blake/Concordia/West Lutheran 13-3 in 5 innings at Northwestern.  Schafer threw 2 and 1/3 innings, Zane Stier of Stewartville went 2 innings and Kaleb Thiesse of Kasson-Mantorville the final 2/3 of an inning.
The HVL managed 3 hits while their opponent had 7 hits in the game.  For the HVL Zach Hutton of Zumbrota-Mazeppa collected a hit, Carter Drazan of Pine Island stroked a double and Austin Melder of Triton had an RBI single.
Coach Lindow says in that game Hutton, Melder and Dommeyer combined on a nice 6-4-3 double play in the 3rd inning.  Melder also made an outstanding play at second ranging to his left to end the 3rd inning.  Melder, Wohlers, Las combined for a double play in the 4th inning.  Luke Sjoquist of Cannon Falls threw out a runner at home from left field in the 5th inning with O'Reilly applying the tag.
Coach Lindow was so appreciative of the Saints for providing the opportunity saying, "It was a great experience for these boys that have been batting against each other for all these years to compete on the same team, represent their school, and represent the HVL."
The HVL has their final game Tuesday at CHS Field against St. Anthony Village/Litchfield/Columbia Heights at 2:00 p.m.
The HVL All-Star team roster is:
Cannon Falls  Jack Dommeyer, Luke Sjoquist
Goodhue   Ethan Schafer, Conor O'Reilly
Kasson-Mantorville   Kaleb Thiesse
Kenyon-Wanamingo    Cole Flom
Lake City  Kylar Ruffel, Jake Wholers
Pine Island  Dylan Las, Carter Drazan
Stewartville  Nick Mohs, Zane Stier
Triton         Derek Lilledahl, Austin Melder
Zumbrota-Mazeppa      Zach Hutton
You can follow the tournament results here.
CHECK IT OUT: Here Are the 77 Most '70s Things About 1977