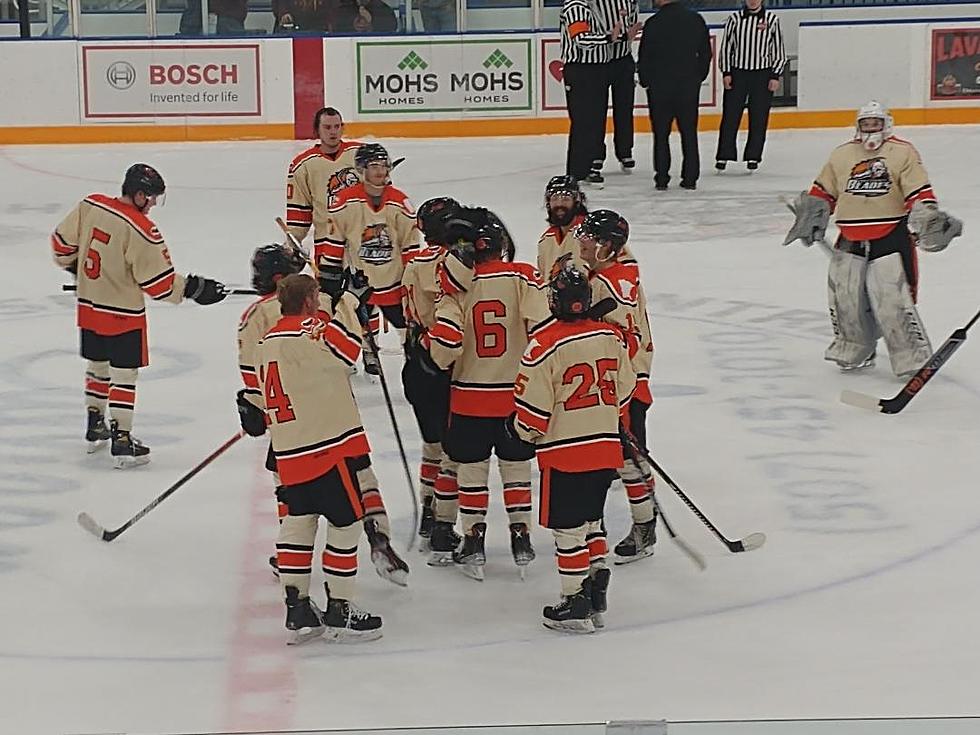 Owatonna Senior Nets Hat Trick in Blades' Win
Roy Koenig/TSM
Steele County Blades rookie, and Owatonna High School senior, Tanner Stendel scored his first career junior goal Sunday on his home rink at Four Seasons Centre. Then he scored his second. And added a hat trick goal in the closing seconds of the Blades' 8-2 win over the Dells Ducks. Stendel (jersey No. 6) is the center of attention after the game in the photo.
In the flurry of activity immediately after the game, Stendel didn't remember many details about his first goal. But he recalled the oddity of the next one, "The second one was kind of a dump from the red line and it...went in."
Stendel thought his chance for a hat trick ended late in the third when his line finished a shift, "It was super funny. I started coming back to the bench and coach told me to get back out there...We were running a certain play. Got it pushed toward me. The defenseman lost it and I just kind of chipped it in the net and it happened to go in."
Stendel ended up with three assists to go along with the three goals and the two souvenir pucks that he walked away with. He the post game remarks from Stendel by clicking below and an extended interview with him here.
He was quick to focus on the team effort in his initial comments, "It was a pretty fun night. We all played pretty well." He added, "Just being out there, back on the ice, being the hometown kid. Just going out there are scoring some goals, having some fun. It was a really good night."
Connor Lee (Sydney, Australia) had a four-point night on two goals and two assists. Brandon Kelly (Minot, ND) had a goal and three assists. Stendel, Lee and Kelly played on a line together Sunday. Jacob Snyder (Duluth, MN) got the win in goal, improving to 4-1-0-1. Steele County (6-2-0-1) outshot the Ducks 52-24. See the game summary.
The Blades play in a showcase event in Blaine at the Fogerty Ice Arena.
Thursday, October 28 versus Hudson, 12:10 pm
Friday, October 29 against the Ducks, 9 am
Friday, October 29 versus Rum River, 7:20 pm
Saturday, October 30 against Pueblo, 7:50 pm
The next set of home games at Four Seasons Centre in Owatonna is against Wisconsin Rapids on Saturday, November 6 at 7 pm and Sunday, November 7 at 3 pm.
Enter your number to get our free mobile app
Dome House for sale in Minnesota features indoor slide!
If you are in the market for a new house and are looking for something unique, the perfect house just went on the market in Eden Prairie. For just under $3 million, you can own a dome home that not only has an indoor slide, but also features an indoor putting green, amazing landscaping throughout the 1.8 acres, and 8,000+ square footage of contemporary design inside the domes. All the details about this amazing property listed by REALTOR Jason Zoellner of Edina Realty, Inc. - Lakeville can be found
here.