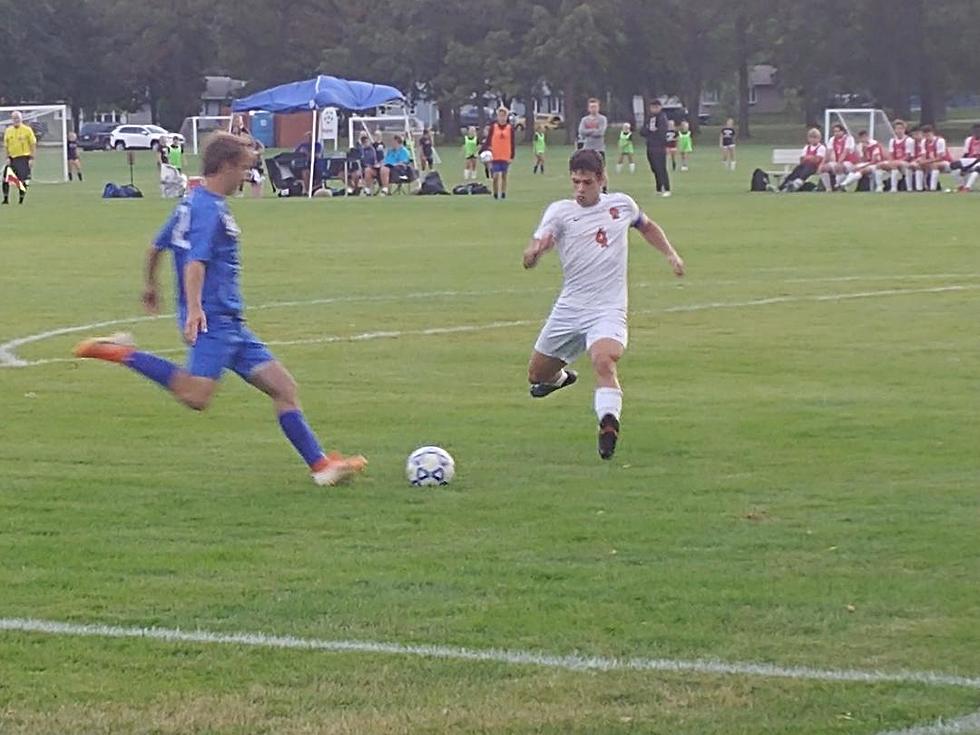 Owatonna Soccer Flips Over Farmington in Season-Opening Shutout
Roy Koenig/TSM
The Owatonna High School boys soccer team blanked Farmington 6-0 in their season opener Thursday at the Lincoln Soccer Complex in Owatonna. The Huskies scored three goals in each half and had six different players score. OHS coach Bob Waypa was happy to be playing a metro team again after 2020's season was limited to Big Nine opponents.
Owatonna hosts Hastings Saturday, August 28 at 1 pm at Lincoln and goes to Lakeville South Tuesday, August 31 in a Kat Kountry 105 FM broadcast before opening their conference season. Hear coach Waypa's reaction to the win and a season preview on Saturday's High School Coaches Show on AM 1390 KRFO / 94.7 FM at 9 am.
Junior striker Benny Bangs opened the scoring in the ninth minute. Sophomore Garrett Karsten tallied a goal about midway through the first half. Junior Ty Svenby converted a penalty kick with 12 minutes to go until halftime.
It was the senior show in the second half. Thomas Hanson made it 4-0 midway through the second. Mason Cocchiarella knocked one in off the far post with just under ten minutes left. Ryan Gregory ended the scoring in the closing minute for the 6-0 victory. He celebrated with a cartwheel and backflip. Waypa indicated that cost him a yellow card, but was ok with it as long it isn't a second yellow, which would force a player to miss a game.
Owatonna girls tennis beat Austin Thursday 6-1, improving to 3-0 in Big Nine matches. In local volleyball, NRHEG swept Alden-Confer and Zumbrota-Mazeppa took three straight sets from Triton.
Enter your number to get our free mobile app
Behold The 25 Finalists In The 2021 USA Mullet Championships!
Business in front, party in the back. That is the mullet way of life and in the 80's, they reached their peak. However, they have by no means disappeared and we should all be thankful for that.
You never know where you'll see a mullet next, but they're always a sight to behold. That is why it's so great that the
USA Mullet Championships
exist.
Here are the 25 finalists for the award, which feature amazing originality and ingenuity. Wisconsin leads the way with 5 finalists hailing from the state, while Minnesota has one representative.
Can't they all win?