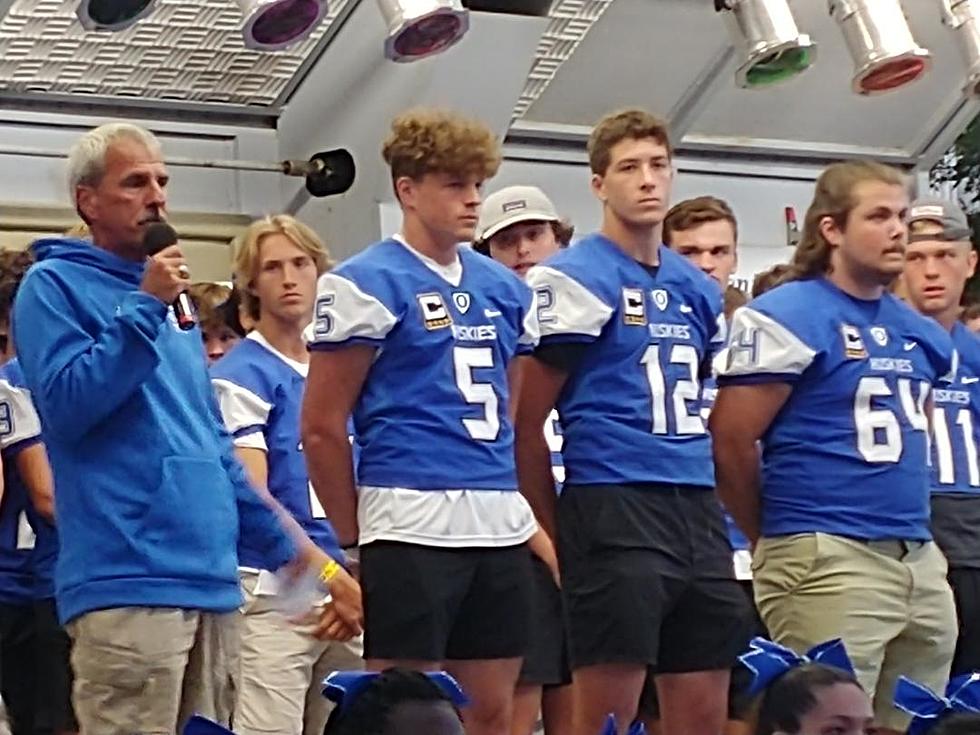 Owatonna to Tangle with Top-Rated Team in MN
Roy Koenig/TSM
The Owatonna High School football team plays at Mankato West Friday night, September 17. The Huskies are 1-1. The Scarlets are 2-0 after a pair of dominating wins and are top-rated in Class 5A. The game will be heard on AM 1390 KRFO / 94.7 FM, plus on the app and here on the website.
OHS coach Jeff Williams addressed the challenge ahead on last weekend's High School Coaches Show, "They just don't have a lot of gaps in their lineup, a lot of weaknesses. I think their No. 1 rating is well-deserved at this time of the year. They've got a lot of kids back from last year's squad, which was a very fine football team."
"Mekhi Collins (6-foot-5) plays wide out and corner for them. He's going to go to NDSU, and was offered by Iowa State...Their quarterback Zander Dittbenner is a marvelous quarterback. He's got a strong arm. He can do it with his feet as well. Their line, basically all returns. Their linebacker Ryan Haley has been offered by the University of St. Thomas."
Williams adds, "This is going to be a real stern test for us, to see how far we've come in the last couple of weeks." Williams points out that Owatonna moved the ball well against some of the upper level Class 6A teams at the preseason scrimmage, when the team was healthy. Owatonna was missing a few players in their win over Century last Friday.
Week three schedule for Southeast Minnesota:
Friday, September 17 games:
Owatonna at Mankato West, AM 1390 KRFO
Blooming Prairie at United South Central, Kat Kountry 105 FM
JWP at NRHEG for the Gold Brick traveling trophy
Triton at Dover-Eyota
New Prague at Austin
Faribault at Stewartville, Power 96
Century at Mayo
John Marshall at Northfield
Albert Lea at Red Wing
Kenyon-Wanamingo at Rushford-Peterson
Cannon Falls at Pine Island, The Mighty 920 KDHL
PEM at Zumbrota-Mazeppa
Tri-City United at Waseca
Chatfield at Caledonia
Goodhue at St. Charles
Saturday, September 18 games
Medford at Lester Prairie, 2:00
Byron at Winona
Mankato East at Kasson-Mantorville
Randolph at Bethlehem Academy
Fillmore Central at Hayfield
Enter your number to get our free mobile app
High school football has changed a lot over the years. How much has school cafeteria food changed? Keep scrolling to check it out.
See How School Cafeteria Meals Have Changed Over the Past 100 Years
Using government and news reports,
Stacker
has traced the history of cafeteria meals from their inception to the present day, with data from news and government reports. Read on to see how various legal acts, food trends, and budget cuts have changed what kids are getting on their trays.
Pac-Man Facts: 40 Easily Digestible Bits of Arcade-Game History
From his arcade-game fame to his own TV show and appearances on all kinds of collectibles, a look back at Pac-Man.