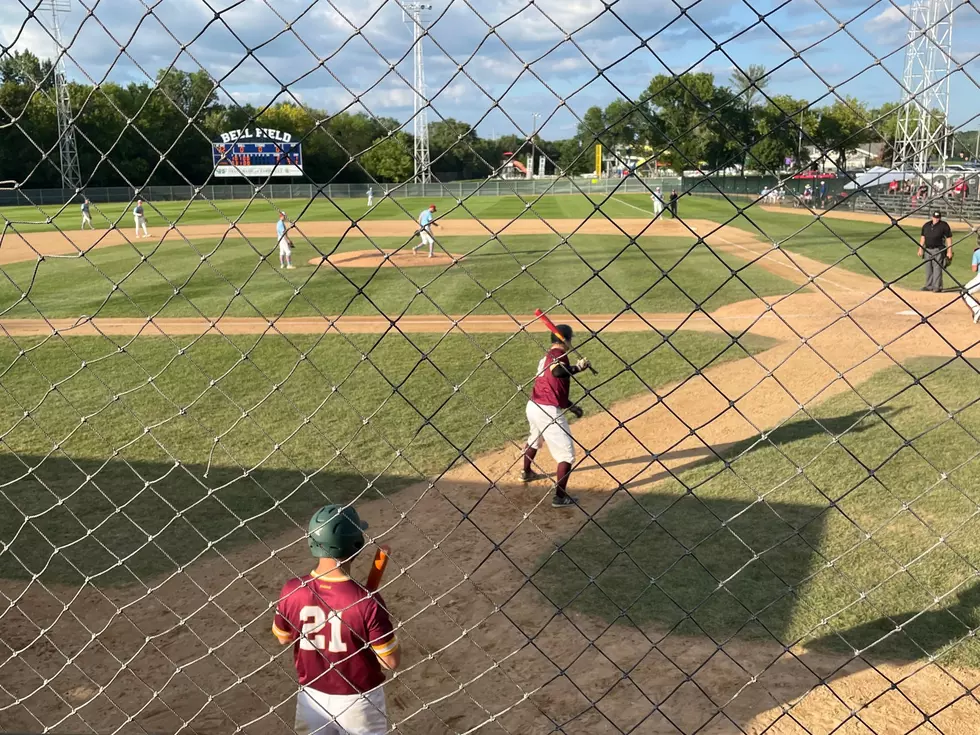 Raymond Rockets by Wanamingo in Class C State Amateur Action
Wanamingo vs Raymond at Bell Field Faribault. Photo by Gordy Kosfeld
The Wanamingo Jacks got 3 hits and scored a run in the first inning but could not muster much more offense in a 10-2 loss to Raymond Sunday at Bell Field in Faribault.
It was an opening round Minnesota Baseball Association Class C State Amateur Tournament game.
With one out Sam Roosen, Eric Swiggum and Alex Roosen all clubbed singles to jump out to a 1-0 lead.  Sadly for the Jacks a double play was turned to end the inning.
In the top of the second inning Wanamingo had Brock Baker reach base on an error to start the inning.  Following a strikeout Jake Glarner had a single placing runners at first and third base.  Back to back strikeouts ended that threat.
Raymond second baseman Paxton Nelson hit a dribbler down the first base line that stayed on the grass.  He beat the throw.  John Sawatzky clobbered a double to left center scoring Nelson.  Sawatzky would gain third base on a wild pitch from Jacks starting pitcher Alex Roosen.
Rockets pitcher Caleb Ditmarson was walked on four pitches.  Ditmarson stole second base during a Tanner Bauman  at bat that ended with a 2 RBI single.  Bauman also stole second base and was left there following a strikeout and fly out.
The Jacks third inning started with a Sam Roosen double.  He would gain third base with no outs when Raymond starting pitcher Caleb Ditmarson tried to pick him off second and threw the ball into center field.
Eric Swiggum then stroked a RBI single giving Wanamingo 6 hits over the first three innings.
They would have two more hits the rest of the game.
The Rockets started the bottom of the third inning with a Brady Kienitz single followed by a Tyler Steen double that scored Kienitz.  The score was 4-2 in favor of Raymond.
Ditmarson left after six innings with 8 strikeouts, 1 walk, 6 hits allowed, 2 runs while throwing 103 pitches, 68 strikes.
Hunter Magnuson, Draftee from New London Spicer, pitched the next two innings with 2 hits allowed, 2 strikeouts, no walks.  He threw 37 pitches, 24 were strikes.
Zach Nelson had a up and down in order ninth inning with one strikeout.  He threw 8 pitches, 6 strikes.
The Rockets had a 6 run 6th inning.  Nine men steppted to the plate against Alex Roosen.  Paxton Nelson opened the inning with a single and ended up at second base thanks to the centerfielder throwing the ball over the second baseman's head.
Sawatsky was hit by a pitch.  Dimarson executed a perfect bunt to load the bases.  Bauman hit into a fielder's choice that scored a run.
#9 hitter Brett Swanson stroked a 2 run single.  A fly out was recorded and a slow ground ball hit by Brady Kienitz before Steen smacked a RBI single. Eli Nelson was walked to load the bases agan and Roosen's day was finished.
Alex threw 92 pitches, 62 for strikes with 4 strikeouts, 2 walks, a hit batter and 12 hits allowed.  Brady Anfinson came in to finish the game with 2 hits given up while facing 8 batters.  Anfinson threw 24 pitches, 18 strikes.
Final line totals were:  Wanamingo 2 runs, 8 hits, 2 errors, 9 runners left on base, 4 in scoring position.   Raymond 10 runs, 15 hits, 4 errors, 5 runners left, 4 in scoring position.
The Rockets will play Nisswa Saturday, August 27, 2022 at 11:00 a.m. in Faribault.
A couple other area teams did not advance in the tournament either.  Region 3C runnerup Montgomery was defeated by the Elrosa Saints 3-1 and the Waconia Lakers drowned Union Hill 6-2 to end the Bulldogs season.
Johnny Krocak was credited with the loss while throwing 7 innings.  He allowed 5 hits, 3 runs, 1 earned, 6 strikeouts, 2 walks, a hit batter.
Draftee Alex Wattermann of Prior Lake MudCats pitched two perfect innings.
The Mallards had 7 hits, Saints 5, 2 errors for Montgomery and 1 for Elrosa.
Dawson Pint led Montgomery with 2 hits.  Tom Flicek had a RBI.  Cole Pint scored the only Mallards run.
The Union Hill game was tied at 1 going into the bottom of the 7th when Waconia scored 3 runs and added 2 more in the 8th.
Kodey Simon went the distance for the Lakers with 11 strikeouts, 0 walks, 6 hits allowed..
Conrad Masberg started for Union Hill throwing 6.2 innings scattering 3 hits, allowing 3 runs, 2 earned with 3 strikeouts, 4 walks.
Jayce Luna, draftee from New Prague went 2/3 of an inning with 3 hits, 3 runs, 2 earned, 1 strikeout, 3 walks.
Charlie Otteson went 2/3 of an inning with 0 hits, strikeouts or walks.
This is fascinating.
Goosebumps and other bodily reactions, explained