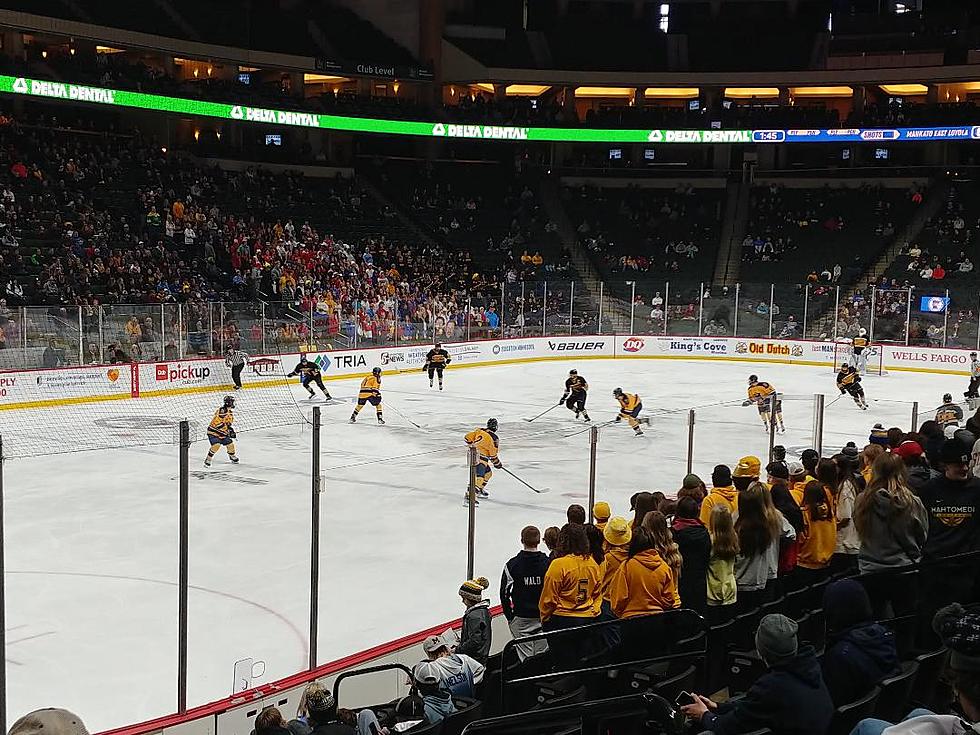 State Boys Hockey Tournament is a Minnesota Holiday
Roy Koenig/TSM
It's holiday time in Minnesota. The start of the boys' state high school hockey tournament may as well be a state holiday. School is out, if your team qualified for state. Even if not, I saw many parents with school-age children, and many high school students who opted for a day off of school to attend the tourney.
And just like the Minnesota State Fair, intermission is a great time to eat mini-donuts and people watch while walking the concourse at Xcel Energy Center in downtown St. Paul.
This year's opening of the tournament featured one of the biggest crowds ever for a Class A session thanks to Minneapolis qualifying for state. Alexandria Area kept that crowd at bay with a 4-1 win to cap the 'small' school quarterfinal round.
Top-seed Hermantown jumped out quickly on New Prague, scoring three goals in the first three minutes on the way to a 5-1 victory. The Hawks outshot the Trojans 50-13.
Mankato East/Loyola of the Big Nine played a scoreless first period with third-seed Mahtomedi. The Zephyrs netted three in the second on their way to a 4-1 win.
Monticello scored the first goal of the tournament Wednesday morning, but second-seed Warroad flexed their muscle with the remaining seven goals to put the game into running time for the final couple of minutes.
The Class AA quarterfinals are Thursday, March 10. Prior Lake, in their first state tournament, faces No. 2 seed Cretin-Derham Hall. Edina, a state qualifier at least 30 times, battles No. 3 Maple Grove. Lakeville South, who spent time as the No. 1 rated team in the state and is coached by former Owatonna coach Josh Storm, is a random draw to play top-seed Hill-Murray. Andover plays Moorhead as Thursday's nightcap.
Hockey Day Minnesota 2022, Mankato
Minnesota State University-Mankato hosted Hockey Day MN. The eight-day festival featured all levels from youth to Division I, including a junior game for the first time.
Faribault-Owatonna Area Townsquare Townie Awards 2022
Townsquare Faribault-Owatonna 2022 Townie Awards highlight the most unique local businesses, people, places, and things around the Faribault and Owatonna Area.
The Worst '90s Movies
We love the '90s. But not all '90s movies.