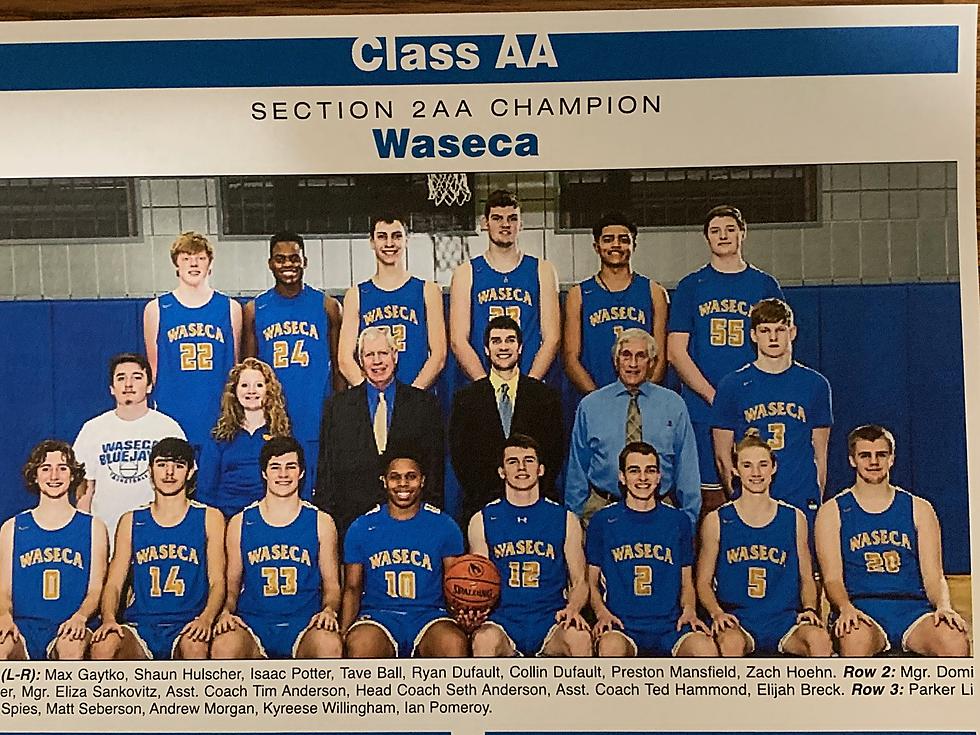 Waseca Edges Caledonia For Class AA State Title
Waseca Bluejays 2021 Minnesota State Class AA Boys Basketball Champions. Photo of State Program by Gordy Kosfeld
The Waseca Bluejays and Caledonia Warriors did not disappoint their fans Saturday at the Target Center in downtown Minneapolis.  The Bluejays captured the Class AA State Championship with a 51-49 victory on a baseline jumper by senior, 6'0 Ryan Dufault with 3 seconds left in regulation.
The game featured 9 lead changes and 7 ties.  Dufault finished with 23 points.  It was an amazing accomplishment for Caledonia to be in the title game because they were without their best player, junior 6'3  Eli King all season due to injury.
Waseca had a 29-27 lead at halftime.  Their biggest lead was 10 about midway through the first half.  The difference in the game cleary were the turnovers.  Caledonia finished with 20 and Waseca 7 turnovers in the game.  The Bluejays scored 25 points, Warriors 6 points off turnovers.
Caledonia outrebounded Waseca 42 to 32 led by senior, 6'5 Casey Schultz with 12 rebounds.  The Bluejays however had 14 offensive rebounds and scored 12 second chance points.  In fact they led in all the hustle categories.  Fast break points 15-5, turnovers 25-6.
Both teams played very good defense as evidenced by the shooting percentages.  The Bluejays shot 30 percent from the field, 20 percent from three point range.  The Warriors had a 37 percent shooting performance from the field, 24 percent from beyond the arc.
Both teams had 6 three point baskets, both teams scored 9 points at the free throw line.  The game literally came down to that last Dufault shot.
Senior 6'5 Austin Klug led Caledonia with 25 points, added 9 rebounds.
Waseca had four starters play every second of the game with their only substitute playing less than two minutes.  Caledonia used seven players.
The Warriors finished their season 23-2.  Their only loss to a Minnesota team in the championship game.
Waseca concluded their year 23-1.  Their only loss to Class AAA Champion Minnehaha Academy.
Many Bluejays fans couldn't help but think without COVID last season cancelling the tournament it might have been back to back championships.  Waseca won their Section last year before the MSHSL pulled the plug on the State Tournament.
Do you know about any of these towns?
LOOK: Here are the best small towns to live in across America