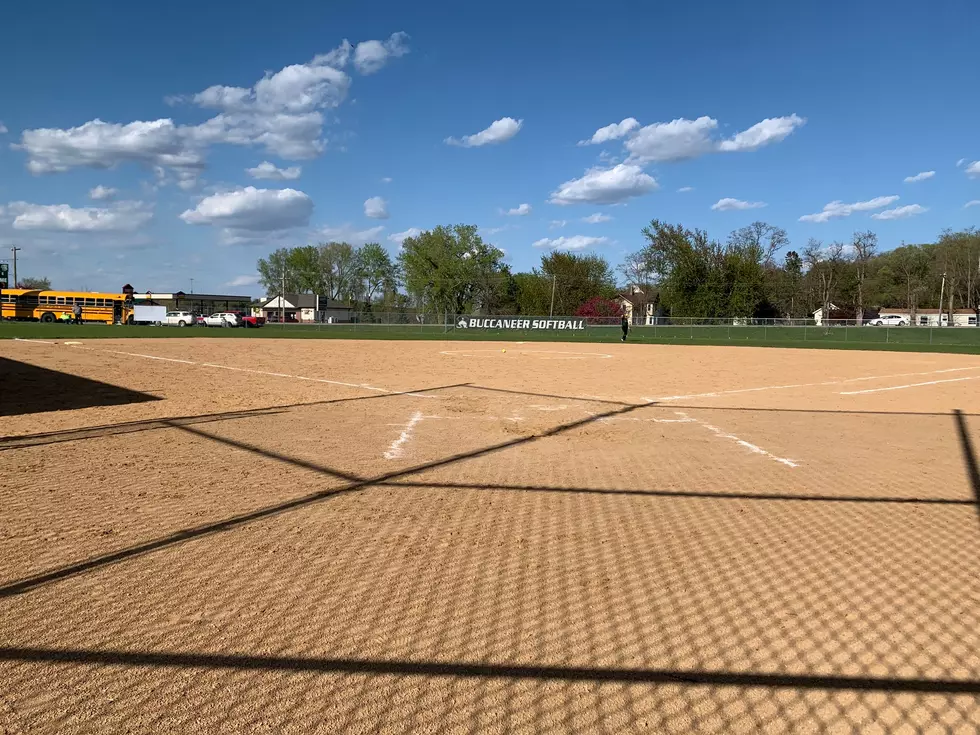 Waterville-Elysian-Morristown Fastpitch Blanks Blooming Prairie
Waterville-Elysian-Morristown Softball Field in Waterville. Photo by Gordy Kosfeld
Waterville-Elysian-Morristown junior pitcher Gloria Cortez threw a 3 hit 7-0 shutout against Blooming Prairie in Waterville this evening.
The game lasted one hour and seven minutes.  The Buccaneers had 9 hits led by senior Kylie Pittman with a RBI triple and two run home run.
In the second inning Waterville-Elysian-Morristown got on the scoreboard when designated player sophmore Emma Woratschka started the inning by reaching first base on a Blooming Prairie error.  Pittman clobbered pitch with a 1-1 count to right center that rolled all the way to the fence.  Woratschka scored, Pittman gained third base without a slide.
Senior Autumn Taylor grounded out to first base but Pittman scored on the play to give the Buccaneers a 2-0 lead.
Cortez kept the Awesome Blossoms off balance by mixing in a very good changeup.  She threw 82 pitches, 55 for strikes with 3 strikeouts and one walk.  The three hits were all singles.
Senior Alison Krohnberg had 4 strikeouts over 4 innings but none the rest of the way.  Waterville-Elysian-Morristown put an exclamation point on the win with a 4 run bottom of the 6th inning.
That's when Pittman hit a no doubt home run to left field scoring Woratschka in front of her.  Woratschka smacked a 1-0 count pitch for a double to start the inning.
Pittman's home run came on the very first pitch.  Autumn Taylor singled to right field on a 1-0 count pitch.  Following back to back groundouts the inning was extended when sophmore Jenessa Baumgarten hit the ball to third base resulting in an error.
Seniors Brielle Bartelt and Ellie Ready each had singles.  Ready collected a RBI capping a 4 run bottom of the 6th.
Krohnberg threw 66 pitches, 49 strikes in her six innings of work.
Our Cashwise Foods and Pharmacy of Owatonna deliveries of the game went to Pittman for her two hit 3 RBI performance and Cortez for her mastery in the pitching circle.
Waterville-Elysian-Morristown is 5-2 with the win and travels to Janesville-Waldorf-Pemberton Friday for a 4:30 p.m. varsity start.
Blooming Prairie falls to 6-4 on the season.
Some of these will leave you bewildered.
LOOK: Stunning animal photos from around the world
From grazing Tibetan antelope to migrating monarch butterflies, these 50 photos of wildlife around the world capture the staggering grace of the animal kingdom. The forthcoming gallery runs sequentially from air to land to water, and focuses on birds, land mammals, aquatic life, and insects as they work in pairs or groups, or sometimes all on their own.