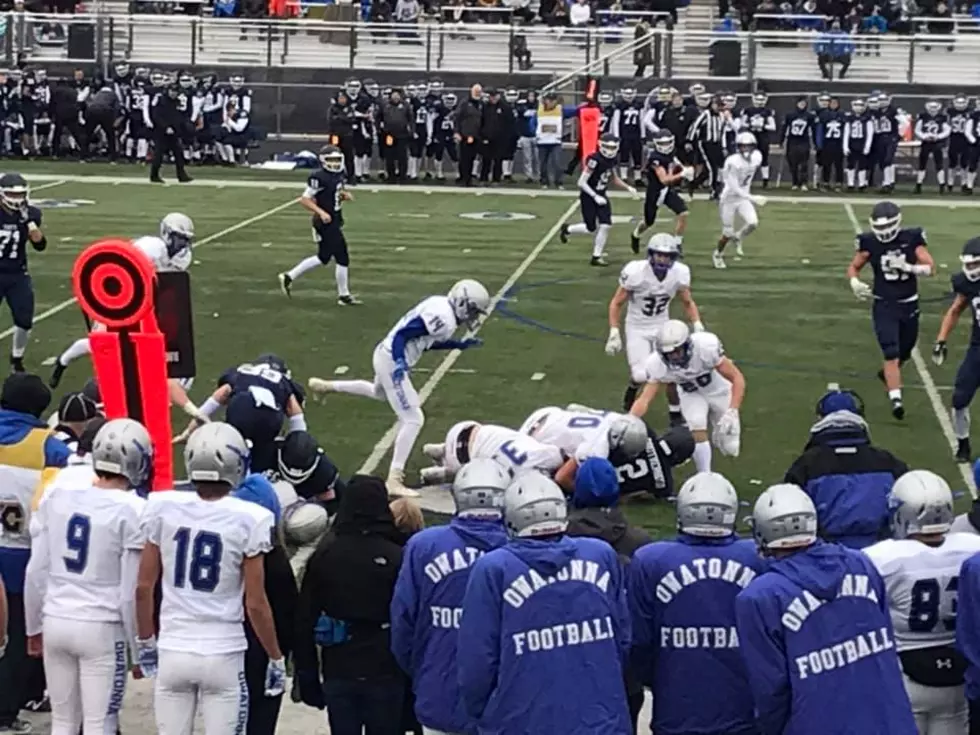 Cadets Blank Huskies in State Quarterfinals
courtesy of Todd Walkingstick
For the first time in four years Owatonna's football season came to an end in the great outdoors, one game shy of another US Bank Stadium appearance. St. Thomas Academy blanked the Huskies 21-0 Saturday, November 9 at Woodbury High School. The setback also ended a 29-game winning streak which included the last two Class 5A state championships. Owatonna beat STA 14-3 in last year's Prep Bowl.
Despite almost no first-half offense, the Cadets led 7-0 at the break after a blocked punt gave them a short field to put together a touchdown. Owatonna also had a tough time moving the ball against the Cadets who earned their seventh shutout of the season.
The Huskies connected on a 50-plus yard pass from Brayden Truelson to Payton Beyer in the first half. Owatonna got into field goal position a couple of times before halftime. Sam Henson hit the far upright on a 37-yard try and was short on a 47-yard attempt into the wind.
STA ate up most of the third quarter with an 18-play, nine-minute drive for a 14-0 lead.They tacked on a score with three minutes to go for the 21-0 final. Each team was limited to under 200 yards of total offense in the quick-moving game.
The Cadets (10-1) will play Elk River Saturday, November 16 at 7 pm at US Bank Stadium. The Elks won a thriller with a last second touchdown pass to top Moorhead 58-55 to reach the semifinals for the fourth straight year.
Owatonna's last loss came late in the 2017 season at Northfield. The Huskies last time being shutout dates to September of 2014 against Mankato West.
The Huskies(10-1) list 29 seniors on their roster including Matt Williams, Isaac Oppegard, Ethan Walter, Jaden Dallenbach, Sol Havelka, Logan Gauthier, Max DeGrood, Sam Henson, Carson DeKam, Isaac Goettl, Keenan Young, Talis Alwes, Jerez Autridge, Hunter Menden, Isaac Gefre, Alex Vereide, Isaiah Noeldner, Dalton Wincell, Zach Wiese, Logan Steckelberg, Jackson Grunwald, Luke Effertz, Carter DeBus, Ethan Rohman, Christian Nagle, Jason Spatenka, Liam Dublin, Brandon Skala, and Josh O'Daffer.