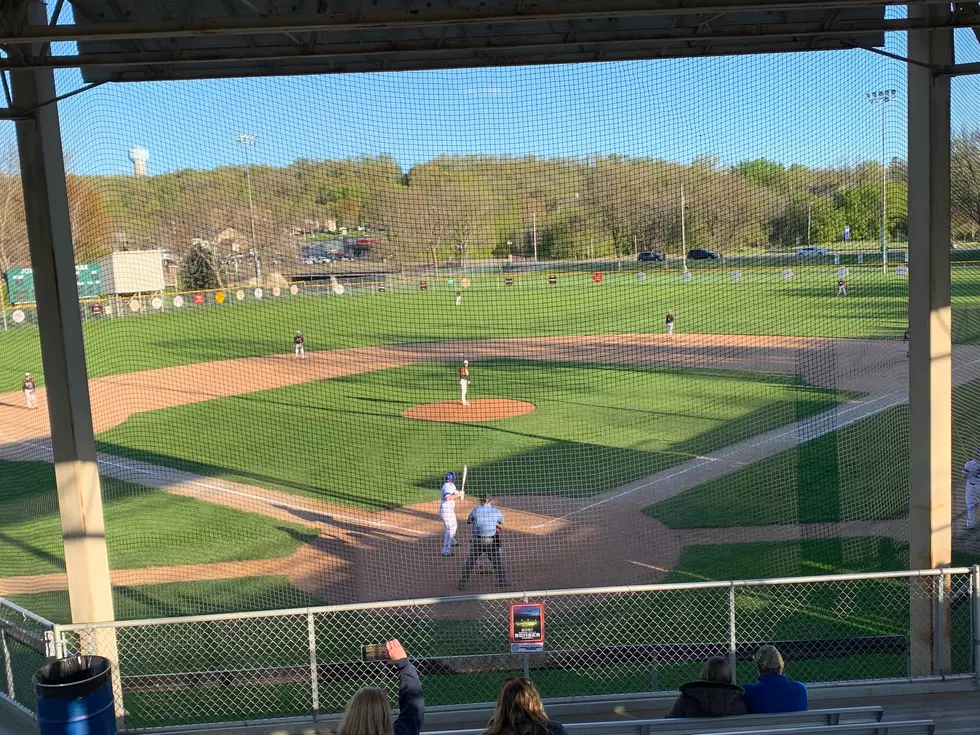 Cannon Falls Earns 4-1 Win Over Kasson-Mantorville
Cannon Falls Pitcher Riley Miller on the hill at John Burch Park. Photo by Gordy Kosfeld
The Cannon Falls Bombers played their first home game of the season Friday night defeating Kasson-Mantorville 4-1 at John Burch Park.  It was their first win of the season.
Senior left handed pitcher Riley Miller struck out 15 KoMets, 9 looking to earn the victory.  The lone run was not earned.
Kasson-Mantorville punched 4 hits.  Miller ended the game with 105 pitches, 67 strikes.  He gave up 2 walks.
Head Bombers Coach Bucky Lindow tells us Charlie Ruud and Adam Templin have the school record for strikeouts in a game with 18.  Both achieved that on two occassions. They are both rightys.
Cannon Falls took a 1-0 lead in the bottom of the second inning.  With one out catcher Loden Bell walked.  He went to second on a wild pitch.  Marcus Banks was safe on a error.
Preston Carlisle hit a sacrifice fly for an RBI.  The inning ended with the speedy Banks thrown out trying to steal second base by KoMets catcher Corbin Horning.
With two outs Horning clobbered a triple and scored on throw to third base going out of play.
In the bottom of the third inning #9 hitter Jon Banks had a one out single.  He would steal second base and end up at third on a strikeout passed ball.  Elliott Nelson was hit by a pitch.  Kasson-Mantorville pitcher Kellen Wilke tried to pick the runner off at first, the error allowed Banks to score.
The Bombers would get two more runs in the 5th inning.  After striking out a batter Wilke allowed back to back walks and left the game after throwing 100 pitches in 4 1/3 innings of work.
Landon Wenzel came on in relief.  The first batter he faced was cleanup hitter Beau Zimmerman who stroked a RBI single.  Bell had a fielder's choice RBI and that's all the scoring Cannon Falls would need.
It was a rough week for Kasson-Mantorville.  They went from a 4-2 record to 4-6.
The Bombers split a doubleheader in Byron today winning the first game 4-3 losing the second 11-1.  Cannon Falls is now 2-5.
In other baseball scores Saturday:
Plainview-Elgin-Millville 13  Lake City  3
Rochester Lourdes 13  Chatfield  3
Hayfield 12  Spring Grove 5 at Rushford-Peterson Tournament
Hayfield 11 Rushford-Peterson 1
United South Central 12  Bethlehem Academy 7
Waterville-Elysian-Morristown 19  Spring Grove 5  at Rushford
Mahtomedi 7  Red Wing 1
Burnsville 7  Rochester Mayo 1
Marshall 7  Mankato East 4
Rochester Century 8  Apple Valley  7
Prior Lake  7  Belle Plaine  2
Some of these will make your jaw drop.
CHECK IT OUT: 100 sports records and the stories behind them