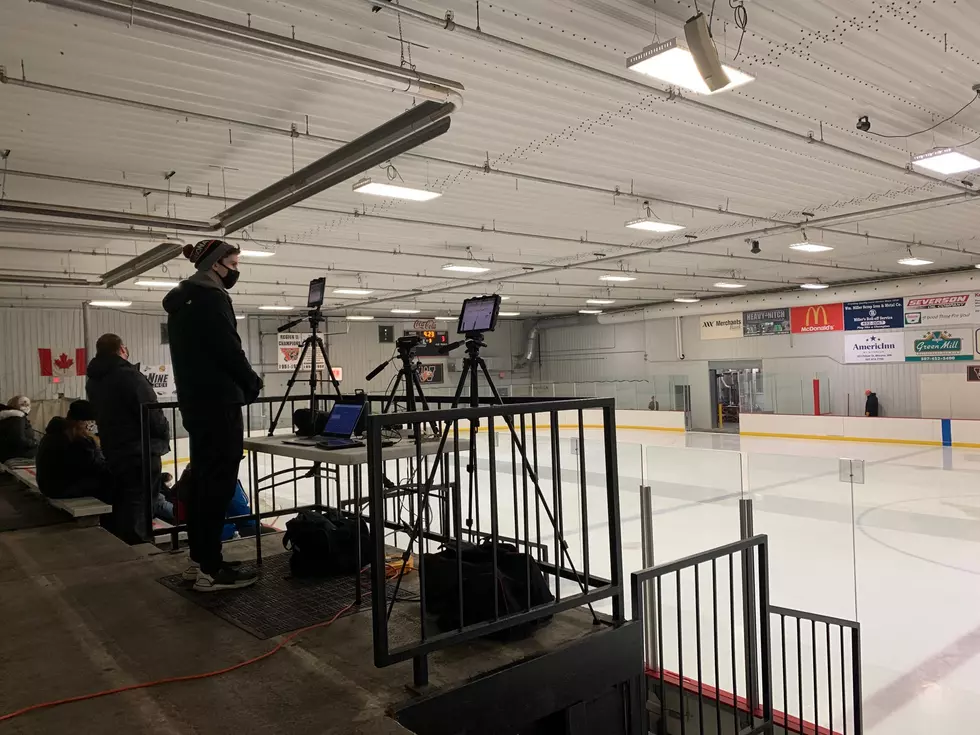 Faribault Boys Hockey Wins Thriller
Who says broadcasters get the best view for a game? Even standing up couldn't see much on that end. Table was filled with people for varsity game. Photo by Gordy Kosfeld
The Faribault Falcons boys hockey team jumped on a coach bus Saturday and traveled to Winona.  Following a 2-1 victory they had a happy bus ride home.  I got to broadcast the exciting game in Bud King Arena next to the mighty Mississippi River.
Both goalies were outstanding in the game. Sophomore Maclain Weasler for Faribault and senior Alex Benson for Winona.  Benson came into the game with a .897 sace percentage and 3.89 goals against average.  Weasler's statistics were .930 and 2.08.
The Falcons had 36 shots on goal according to the official scoresheet and the Winhawks 31.
Faribault was whistled for four penalties in the first period giving Winona two power plays with a two man advantage.  Their top scorer this season Matt Thesing connected unassisted on one of those two man advantage opportunities.
The first period ended with the score Winhawks 1, Falcons 0.
Shots were 18-6 in favor of the home team.  Remember this is shots on goal not total shots.
In the second peiod Winona returned the favor by giving Faribault a two man advantage but the Falcons did not score.  Faribault came into the game with the second best power play percentage in the Big Nine and Winona had the worst penalty kill percentage.
At 12:51 sophomore Owen Nesburg (3) scored following an assist by Zach Siegert (1).  shots on goal in the second period were 19 for Faribault, 8 for Winona.
After two periods it was 1-1.
As you would expect intensity was ratcheted up a bit in the third period with senior Co-Captain Jordan Nawocki (3) scoring the game winner 4:53 into the final period.  Assists to Kory Johnson (2) and Blake Vinar (2).
Our Malecha's Auto Body of Faribault Falcons of the game were Nawrocki, Nesburg and Weasler.  Freshman Oliver Linnemann was chosen for our Cashwise Foods of Owatonna delivery of the game following the steal of a puck and pinpoint pass to Zach Siegert ahead of him.
Shots on goal in the final period were 11 to 6 in favor of Faribault.  Penalties in the game were five for Faribault, two for Winona.
The Falcons now have a 3-3 record while Winona fell to 1-4-1.
Faribault travels to Mankato to play against Mankato East/Loyola Tuesday All Seasons Arena.  Drop of puck is 5:15 p.m.
Winona is at Rochester Mayo 7:15 p.m. Tuesday..
Other Big Nine boys hockey scores Saturday included:
Rochester Century 15  Austin 0
Mankato West  6  Red Wing 2
Rochester Mayo 3  Albert Lea 2
Rochester John Marshall against Rochester Lourdes game postponed
Big Nine Boys Hockey Standings are:
Mankato East/Loyola       6      1           12 points
Mankato West                  6      1           12 points
Northfield                         5      1           10 points
Owatonna                        5      1           10 points
Albert Lea                        4      3             8 points
Rochester Mayo             4       3             8 points
Faribault                          3       3             6 points
Rochester Century          3       4             6 points
Red Wing                        1       4     1      3 points
Winona                           1       4      1     3 points
John Marshall                 0       6             0 points
Austin                             0       6             0 points
Other area boys hockey results Saturday:
Lakeville South 6   Prior Lake  3
Shakopee 4        Burnsville  3
Farmington 5    Apple Valley  2
Rosemount 4   Lakeville North  3
Tartan  5     Eastview   2
Speaking of sports check out the following information.
CHECK IT OUT: 100 sports records and the stories behind them