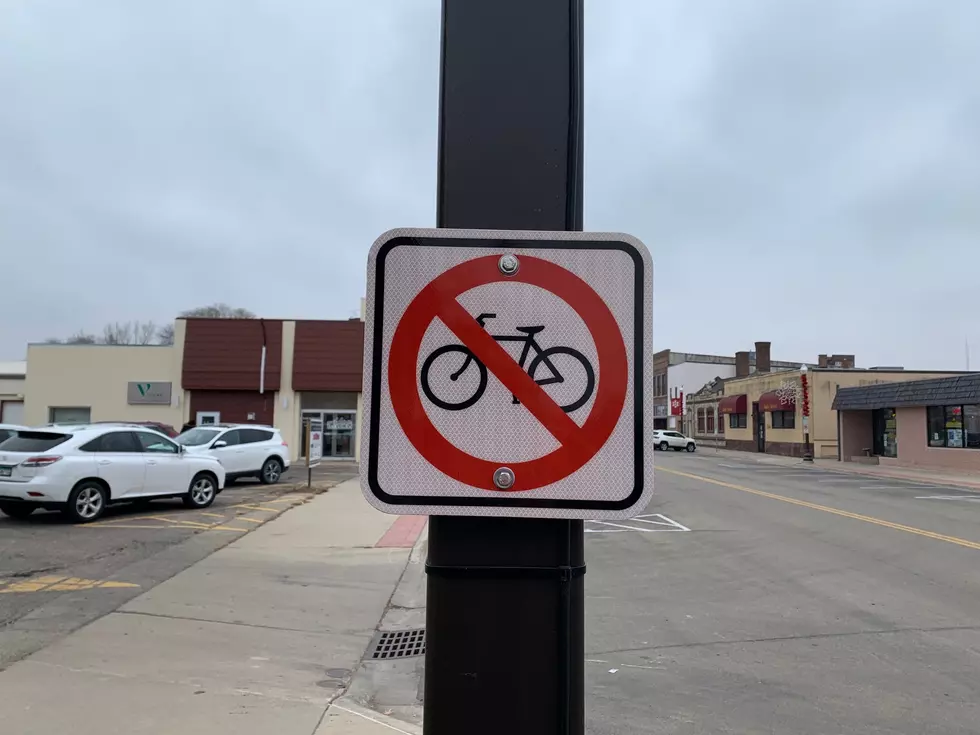 Faribault Council Member Wants Bikes on Downtown Sidewalks
Downtown Faribault No Bikes Sign. Photo by Gordy Kosfeld
The Faribault City Council Ad Hoc Committee concerning On-Street Bicycle Routes discussed a few issues earlier this week at City Hall.  Council Member Janna Viscomi asked about allowing bikes on downtown sidewalks.  She said recently she was nearly wiped out by a vehicle backing out of a parking space on Central Avenue.
Viscomi says there is no space on the street for a bike, "A hundred percent.  I can't believe nobody's been killed to be honest with you.  I was almost taken out in a second.  So it's just something to consider.  If there's some kind of terminology that we can put where it still allows bicyclists on the sidewalk for safety, but they're not smoking people has they're coming out of a door.  That was always the concern because kids are just flying.  But if we can keep them safe and keep people walking safe, we're going to have to share that space.  It's just too nuts down here."
Viscomi emphasized in particular there is no room on Central Avenue, "With a vehicle and a car there is no space for them.  I've tried it multiple times.  The safest place for me to be and a child to be would be on that sidewalk.  I don't know any other way through the downtown."
City Administrator Tim Murray suggested something he's seen in other cities, "There's signs when you get into their urban core or whatever.  The signs is to the effect of basically walk bicycles on sidewalk.  I wish I could tell you where but I know I've seen that sign where it's basically recognizing people aren't riding their bikes down the street because like you say you're in a downtown,"
Murray added, "It's been no bikes, no skateboards or whatever on the sidewalks on Central since I've been here. I don't know how far back that goes or what was the arguement for doing that."
Viscomi says, "I would be one to bring up something for the safety of kids.  Just allowing them to be on the sidewalk.  I'd rather yell at somebody to slow down than to peel them off from behind a car."
Viscomi and Council Member Elizabeth Cap also asked for signage specifically in Teepeetonka Park for bike trails and walkers to be able to determine how far the loop is around the park.
City Engineer Mark Duchene told them Parks and Recreation Director Paul Penansky is examining signage in the parks and, "We've also  engaged our GIS coordinator on developing maps with QR codes that people can snap the QR code with their phone from a kiosk or location and they could get a map on their smartphone so that once you leave that one point you don't have to memorize where you're going.  You kind of have that frame of reference right there on your smart device."
Mayor Kevin Voracek asked Duchene about biking in Northfield, "Have you seen the new bike trails (lanes) on 5th Street ?
Duchene responded, "Yeah, the ones that are painted green or whatever."
Voracek replied, "Yeh, is there actually people that use those? Because every time that I'm working in Northfield everybody's on the sidewalk. So I think those are either a waste of money or not well advertised or people just don't feel safe enough. I think it's just goofy."
Dechene commented, "You have those hard core bikers who want to ride on the shoulder of the road while cars whiz by at 55 miles an hour and then you have folks who, yeh want to ride on the sidewalk because they're not comfortable even on our 30 mile an hour streets."
Viscomi also brought up the 7th Street area near Burger King saying it's dangerous because the sidewalk ends on the south side of the street.  Duchene noted the county is in charge of that stretch of road and the 7th Street and Highway 21 intersection will be renovated in 2025 with specifically left turn lanes installed.  He said maybe they could request to extend the sidewalk to the bike trail.
MORE TO EXPLORE: Top 10 Best 'Unofficial' Minnesota State Symbols