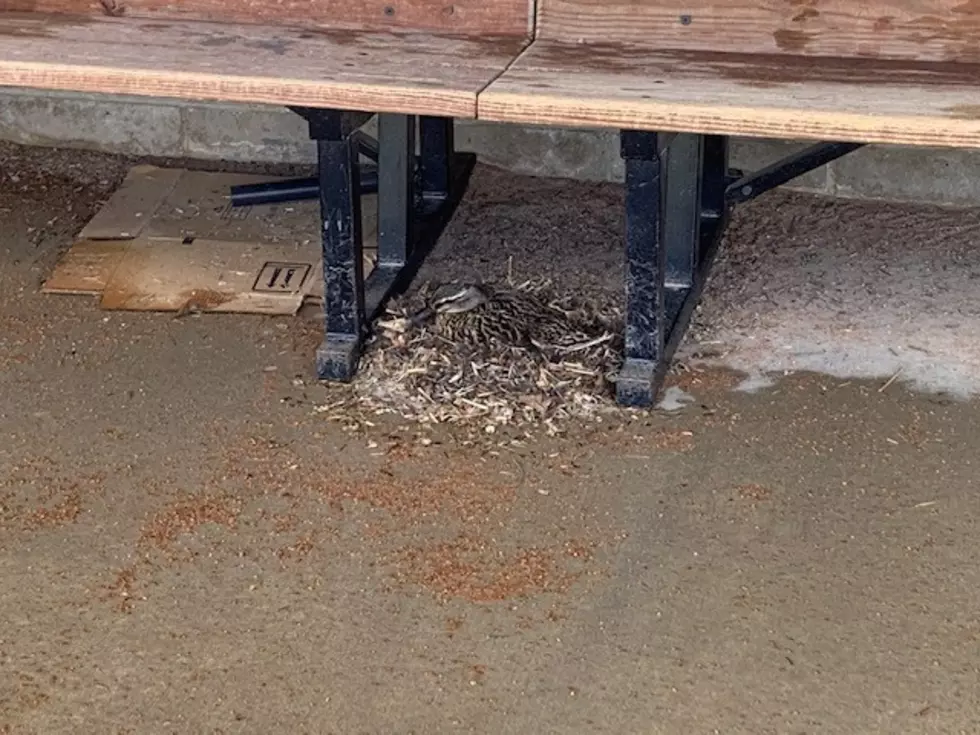 Faribault's Bell Field Home to a Dugout Duck
Bell Field Home Dugout Duck. Photo by Gordy Kosfeld
The one good thing about no baseball this spring at Bell Field in Faribault means the refurbishment can be done with no interruptions.  The lack of activity in terms of baseball at the field did lead to a mallard duck, (maybe from Montgomery), deciding to have it's nest in the home team dugout.
The improvements continue with fencing now installed in the outfield.  They will be planting the ivy soon.  The grandstand has a new paint job.  I was shocked to see the Falcon green gone because it's been that color since I moved to Faribault in 1987 and have been told it was there even long before then.
The Faribault Lakers and Bethlehem Academy Cardinals also play home games there.
There is a picture I took of the paint jobs through the years.  I assume when it first opened on May 25,1949 it had the yellow coloring.
The field is named after former Faribault Mayor Hadley Bell.
One of the construction workers told me originally they were told to paint the base on the grandstand inside white but that would not have worked very well with baseballs being that color.  Instead it is now a dark gray.
Head Faribault Falcons baseball coach and Faribault Lakers Manager Charlie Lechtenberg was at the park watering the grass when I arrived to take updated photos.  He said the dugouts will be the same dark gray and the announcer's box will probably also be that color.
The old electrical building was torn down and the walls are up on the new one.  The building will be the exact same dimensions as the previous one.  When I spoke with Faribault Parks and Recreation Director Paul Penansky I suggested adding some area to the building, moving it and having part of it be a concession stand.  Even better placing the electrical under the grandstand would have worked.  You could then use those dollars for a concession stand.
You could have the workers in the stand be able to watch the game and those getting food not miss any action either.  Lechtenberg is hoping before Faribault hosts the State Amateur Baseball Tournament in 2022 a new concession stand can be constructed down the first baseline.
Possibly add deck seating down the third baseline.
NEXT UP: Which is Your Favorite MN Sports Venue?