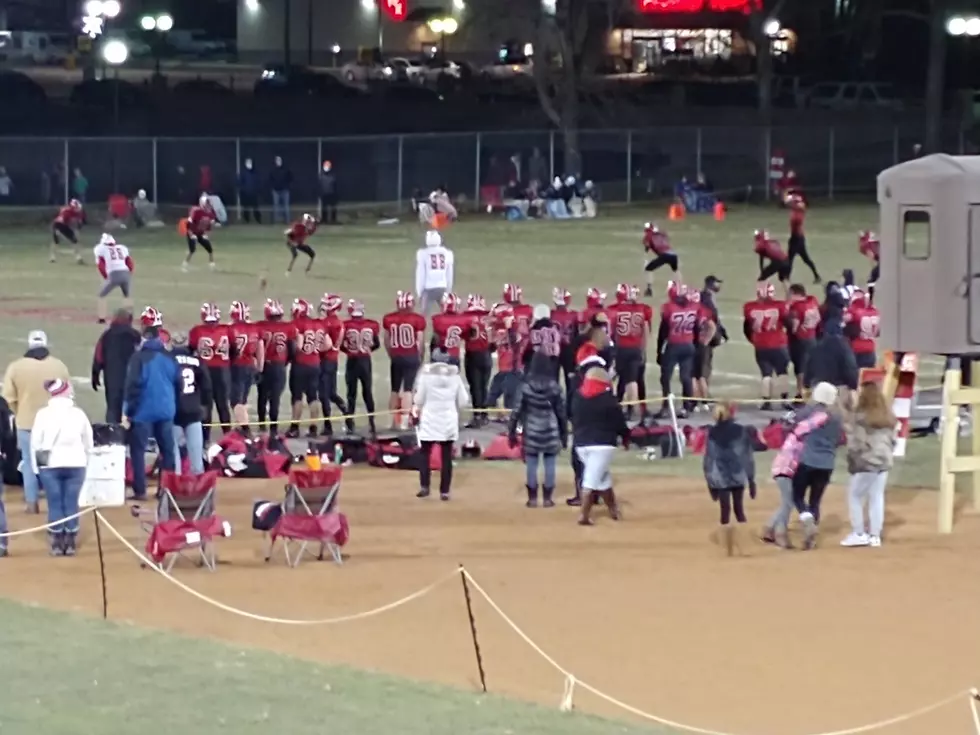 Final AP Minnesota High School Football Poll
John Burch Park Cannon Falls Kickoff vs St. Croix Lutheran Nov. 21, 2020 Photo by Roy Koenig
The final Minnesota Associated Press High School Football rankings were released this week.
Randy Shaver of KARE 11 fame is calling the top ranked teams in each class "Mythical Champions" for 2020.  He votes.
I will repeat what I said when the Minnesota AP stated they might choose a champion in each class after learning there would be no state tournament.
Champions always should be determined on the field.  How in the world do you choose when there are multiple undefeated teams in a class.  There should also NEVER be ties in a poll.  Flip a coin if you must but a top ten needs to be ten teams.  Go by average points given up or something to separate them.
I understand this year was like no other so why can't we just end the season with no state champions.  There were no champions last spring, or in volleyball or any other sports since COVID-19 hit Minnesota in March.
Caledonia is #1 in Class 2A.  Due to COVID-19 they played three games. The #2 and #3 rated Blue Earth Area and Barnesville were both 7-0.  How do you determine this without equal schedules just in terms of the number of games played?
2020 is simply the COVID-19 year.  No state champions because there was no state tournament.
I'm using Class AAA as an example because I'm most familiar with the Cannon Falls Bombers run to their third consecutive Section 4AAA Championship last Friday night in Cannon Falls.
The Bombers went undefeated for the first time in the history of their football program.
They went 7-0 with an average margin of victory of approximately 26 points.  Cannon Falls downed St. Croix Lutheran (5-2) in the final game 56-21.
The Bombers closest game was in their season opener when they defeated Pine Island 27-18. That was their lowest offensive output of the season.  Cannon Falls averaged 44.6 points and allowed 18.6 points per game.
After being rated #2 most of the season the Bombers are #3 in the final AP listings. Remember they didn't lose a game.  #1 is Annandale (7-0), #2 is Albany (8-0).  Dilworth-Glyndon-Felton finished 6-0 and is rated #5.  #7 Mora was also unbeaten at 6-0.
The combined records of the teams Cannon Falls played was 25-18.  Annandale 27-25 and Albany 28-27.
Average margin of victory was approximately 34 points for Albany (only 3 teams with winning records).  Annandale's average margin was identical to Cannon Falls 26.  The Cardinals played two teams with winning records.
The Bombers had 5 opponents with winning records.  Annandale averaged 32.6 and allowed 7.4 while Albany averaged 42.6 and gave up 8.7 points per game.
What are the pollsters looking at?  The final score is the bottom line.
Complete final rankings are below.
Class 9-Man
1. Hills-Beaver Creek   7-0
2. Hancock   7-0
3. Mountain Iron-Buhl, Stephen Argyle TIED
5. Grand Meadow 6-1, Lanesboro 7-1 TIED (Lanesboro defeated Grand Meadow for Section 1 title)
7. Renville County West 6-0
8. Win-E-Mac 6-1
9. South Ridge 6-1
10. Ogilvie 5-1
Class 1A  
1. Blooming Prairie 5-0
2. Minneota 8-0
3. Mayer Lutheran 7-0
4. Mahnomen-Waubun 5-0
5. Wabasso  6-1
6. Murray County Central  6-1
7. New York Mills  4-0
8. BOLD    5-2
9. Breckenridge  6-1
10. Lester Prairie-Holy Trinity  6-1
Class 2A  
1. Caledonnia  3-0
2. Blue Earth Area  7-0
3. Barnesville  7-0
4. Minneapolis North  6-1
5. Morris Area/Chokio-Alberta  6-1
6. Chatfield 4-1, Eden Valley-Watkins 5-1  TIED
8. Moose Lake-Willow River 3-1
9. St. Agnes  5-1
10.Redwood Valley  5-2
Class 3A 
1. Annandale 7-0
2. Albany  8-0
3. Cannon Falls  7-0
4. Dilworth-Glyndon-Felton  6-0
5. Waseca  6-1
6. Litchfield 6-1
7. Mora  5-0
8. Pierz 7-1
9. Rochester Lourdes  4-1
10. Aitkin  6-1
Class 4A  
1. Fridley  7-0
2. Rocori  7-0
3. Hutchinson  5-2
4. Grand Rapids  6-1
5. Becker  4-2
6. Kasson-Mantorville  5-1
7. Willmar  6-2
8. Marshall  5-2
9. Princeton  6-1
10.Jordan   4-1
Class 5A
1. Moorhead  7-0
2. St. Thomas Academy  6-0
3. Mankato West  6-0
4.  Andover  6-0
5.  Chanhassen  6-0
6. Spring Lake Park  6-1
7. Mahtomedi  5-1
8. Bemidji  5-2
9. Rogers   5-2
10. Minneapolis Washburn  6-1
Class 6A
1. Lakeville South  8-0
2. Eden Prairie  7-0
3. Rosemount   6-0
4. St. Michael-Albertville  6-2
5. Blaine  6-1
6. Farmington  5-1
7. Shakopee  6-2
8. Maple Grove  4-1
9. Totino-Grace  4-2
10. East Ridge 4-2, Stillwater 4-3  TIED
CHECK IT OUT: 100 sports records and the stories behind them