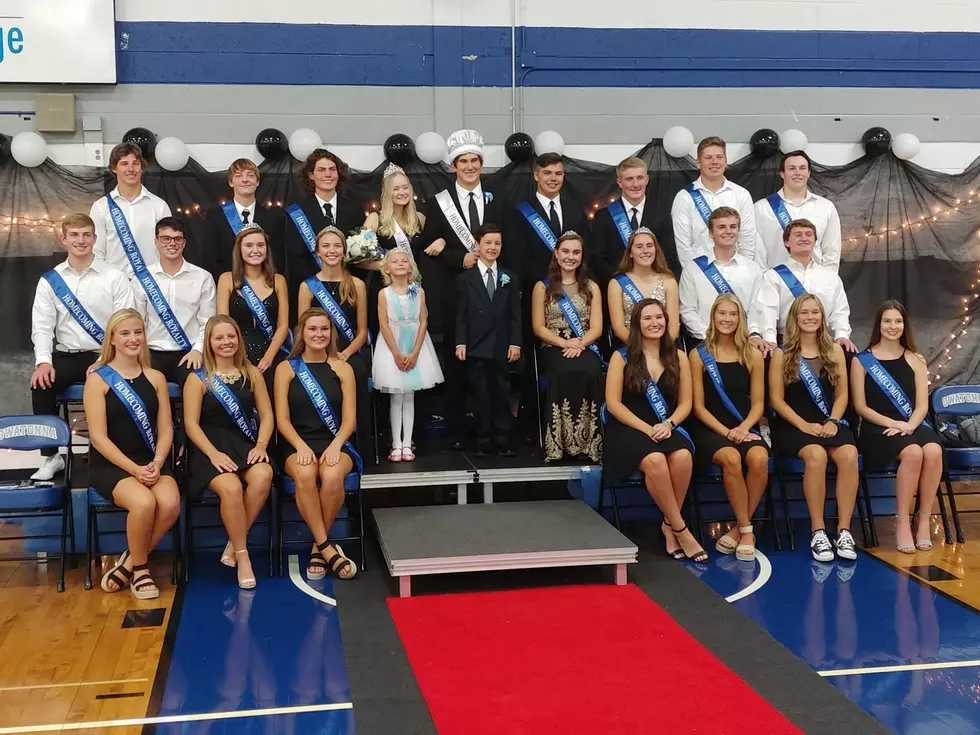 Huskies Homecoming Week Opens with Crowning of Royalty
Roy Koenig/Townsquare Media
Owatonna High School's homecoming week began Monday morning with a pep fest and crowning of the queen and king. Julia Dallenbach and Carson DeKam were announced as the winners as the band played and students cheered. The theme of the week is "Rock 'N Roll Revival."
Theme days include Hippie Day, Groupie Day, Heavy Day, Thrifty Thursday, and Our House Friday. Every OHS sports team has a home event this week. Student Council member Camryn Bartz, who was a top twelve candidate, told the Magnet, "We have some new dress-up days, not the same ones we're use to. There are a lot of different ways you can dress for these, and we'll see some new groups being represented."
A representative of each sport shared a brief update during coronation. A parade through downtown begins at 1:30 pm Friday. The football game against Mankato West kicks off at 7 pm. A homecoming dance is Saturday at 9 pm at the middle school.
Top five candidates for queen and king are below with some of their activities and future plans.
Queen Julia Dallenbach (dance team, student council, Big Brother Big Sisters of Southern Minnesota, NHS, DECA, plans to go to college for medical or engineering education)
Kaia Elstad (soccer, track and field, choir, orchestra, Carolers, NHS, Sunday School and Vacation Bible School at her church, plans to attend UW-LaCrosse)
Erin Holzerland (soccer, lacrosse, DECA, student council, plans to attend a four-year university)
Grace Randall (cross country, lacrosse, Diversity Group, DECA, plans to attend UW-LaCrosse or UMD and study marketing)
Elise Sande (dance team, student council, DECA, NHS, volunteers at church, hopes to dance in college and study business or communication)
King Carson DeKam (football, basketball, baseball, rotary, band, choir, Jazz Band, plans to study commercial aviation or marketing)
Jaden Dallenbach (football, basketball, baseball, SHOC, plans to attend college)
Isaac Gefre (football, baseball, trap shooting, rotary, plans to attend UW-River Falls or MSU-Mankato and study engineering or elementary education)
Isaiah Noeldner (football, wrestling, track and field, Link Crew, working on his Eagle Scout rank, hopes to attend Air Force Academy or another service academy and become a pilot)
Logan Steckelberg (football, swimming, track and field, band, plans to attend college)
Other Top 12 candidates were Camryn Batrz, Carly Christenson, Liv Larson, Emma Loveless, Chloe Schmidt, Josie Sullivan, Emilee Zirngible, Carter DeBus, Sol Havelka, Isaac Oppegard, Zach Wiese, Ethan Walter, Matt Williams, and Dalten Wincell.