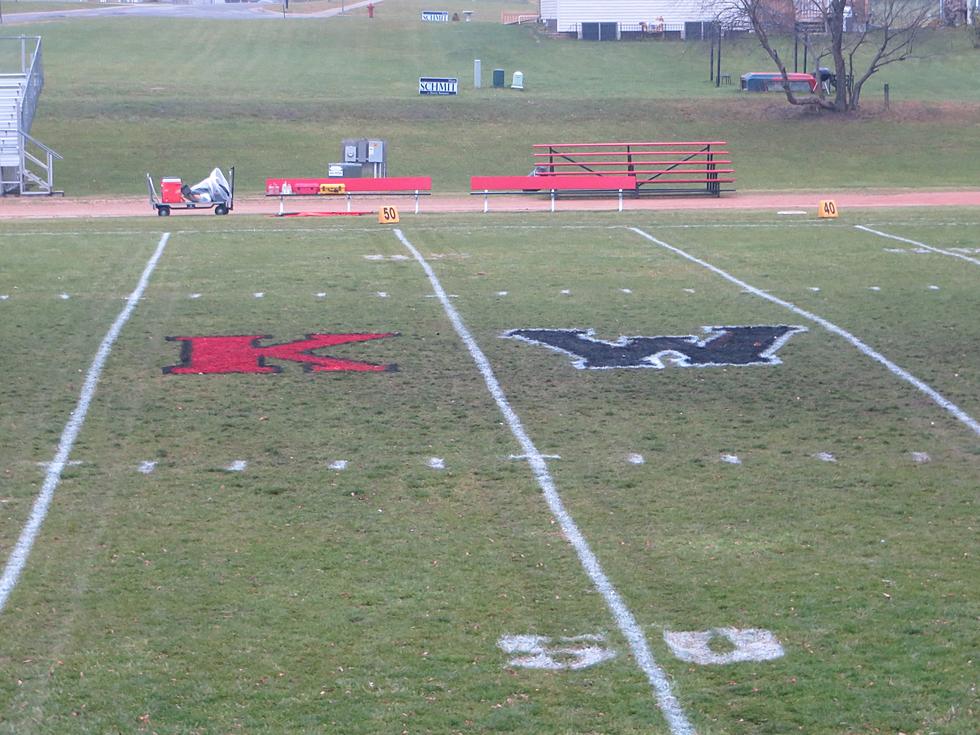 Kenyon-Wanamingo Football has New Opponent Friday
The K-W Moat in 2016 - photo by Gordy Kosfeld
Kenyon-Wanamingo High School Activities Director Randy Hockinson informed KDHL/POWER 96 this afternoon the Blooming Prairie football team had to cancel their game scheduled for Friday.  Within just a couple hours the Knights got Zumbrota-Mazeppa to agree to play in Kenyon this Friday night.
The game will be in what I affectionately call The Moat. The K-W High School football field.
Kenyon-Wanamingo was scheduled to be at Class A #1 rated Blooming Prairie.  This is the current COVID-19 reality Minnesota high school football teams are dealing with every week.
Hockinson told me before Blooming Prairie had officially told him they would not be able to play on Friday he had been contacted by other schools looking for an opponent to play against.
Paynesville and Minnesota Valley Lutheran were other schools that had inquired about the possibility of arranging a contest.
Hayfield was supposed to be the opponent for the Awesome Blossoms last week.  They weren't fortunate enough to get a home game for their replacement contest.  The Vikings travelled to Caledonia Friday to play River Ridge out of Wisconsin.  River Ridge came out on top 20-14.
Zumbrota-Mazeppa was supposed to play Lewiston-Altura but they also had to pull out of their competition opening the door for the Cougars to travel to Kenyon Friday night.
There are high school football games scheduled every day this week including Election Day according to the Minnesota Football Hub.
The one game Election Day is 4:00 p.m. Roseville at White Bear Lake.  According to the Minnesota Football Hub.
They list all the games in the state on their website and 20 games were cancelled Friday.  It does not list the reason for each cancellation so they might not all be due to COVID-19.
Maple River was supposed to play New Richland-Heartland-Ellendale-Geneva Saturday but NRHEG had to bow out and the Eagles scheduled Rockford to come to their field and won 23-20.  The cancellations are literally across the state.
This week's opponent for NRHEG,  Martin County West will play Maple River Friday night.
The Faribault Falcons host Winona Thursday night.  That date has always been on the schedule.  We will broadcast the game beginning 6:45 p.m.
Friday the KDHL scheduled game broadcast is Bethlehem Academy at Goodhue.  Coverage also starts 6:45 p.m.
TAKE A LOOK: 9 Creepy Abandoned Places You Didn't Know Existed in Minnesota