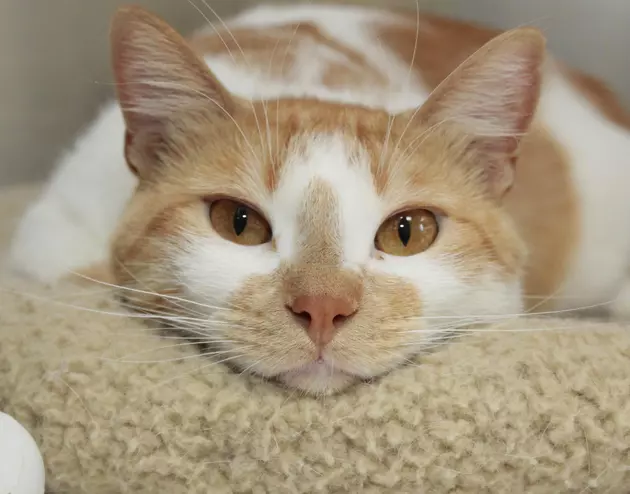 Looking For A New Pet? Don't Overlook The Shy Ones Like Patches
Image Credit: Michaela Tews
This week's adoptable animal is one that was a recent find in terms of how long he has been at the Mower County Humane Society. Patches according to volunteers was found this past winter and after unsuccessful attempts to find his owner, he was brought to the humane society and is now looking for a new home.
Michael Tews, a volunteer with the Mower County Humane Society has more information about Patches. Michaela tells us that "Patches was found in Mower County wandering in the winter of 2021 and then rescued by a cat-loving couple. They did advertise, but no one stepped forward to claim this handsome guy."
Patches isn't very old as those at the shelter feel he is "about 2 years of age." While Patches likes people he does "prefers to be the only cat." So if you are looking for a companion for a current cat in your house, Patches wouldn't be the best fit, but one of his pals at the Mower County Humane Society might be.
You can adopt Patches for $50 or if you are looking to find a home for more than one cat the Humane Society in Mower County is offering that you can adopt 2 cats for $75.
Some reminders about adopting from the Mower County Humane Society, you must be 21 to adopt, and you must have with you when you arrive to adopt a pet porter.
If you are interested in meeting Patches or another cat, go to the shelter's website here and complete and send the Mower County Humane Society online adoption form to the shelter.
The Humane Society offers up adoptions by appointment only and will get back to you to set up a meeting time after you fill out the form.
Here is an update about two bonded dogs that are looking for a home together, these two have been sponsored so now all we need to do is find them a nice new home! How great is that!
Home in Minnesota's #1 Small Town Has Awesome Views of Area State Park
According to Realtor.com the
number one small town
in the country where people actually want to live happens to be in southern Minnesota: New Ulm! So I decided to shop the houses in New Ulm and found this one that has great views of Flandreau State Park.