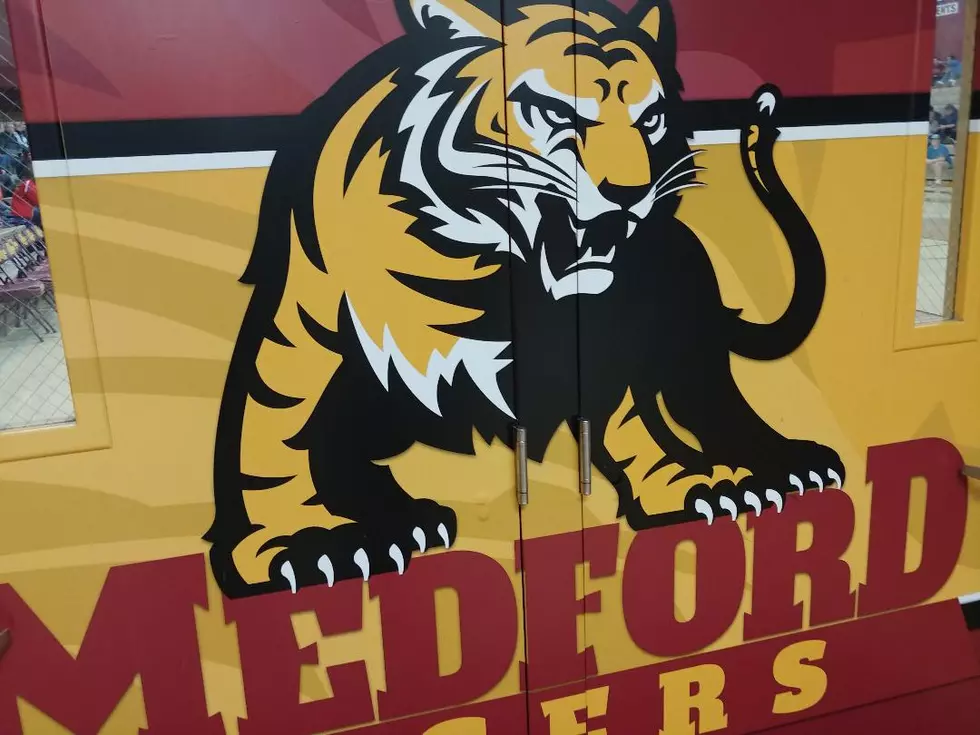 Medford, Westfield Wrestlers Place at State
Roy Koenig/Townsquare Media
Medford sent three wrestlers to the state finals on Saturday. Two came home as place winners. Tommy Elwood and Josiah Hedensten each finished fourth. Brennon Hoffman did not place, but wrestled a pair of very competitive matches. Westfield's Tyler Acher won his fifth place match.
Elwood, an eighth-grader making his state tournament debut, is ranked third at 106 pounds. He won his quarterfinal Saturday at St. Michael-Albertville High School 4-0 over No. 9 Donovan Schmid (Blackduck/CLB). Elwood lost in the semifinals to then-unbeaten No. 6 ranked Zach Remer (Mille Lacs) 3-2.
In the third place match, top-ranked Anthony Romero (Grand Meadow-Leroy-Ostrander) got a first-period take down. The two fought through a scoreless second period. Romero pulled away in the third for an 8-0 win. Elwood ends the season at 26-3.
Senior Hedensten, ranked seventh, improved on his fifth place finish at state in 2020. He beat Hunter Dean (Bertha-Hewitt/V/PP) 11-10 in the 170-pound quarterfinals. Hedensten scored seven points in the first period. In the semifinals, top-rated Carter Sorenson (Fosston-Bagley) was up 4-0 after the first period after getting near fall points late. He went on to win 8-1.
In the third place match, Hedensten went ahead of No. 3 ranked Ashton Hanan (Kimball Area) 5-4 with a reversal and a three-point near fall late in the first. Hanan put together a big second period for a 12-7 lead. The two had a furious third period exchange of reversal, escape, take down, escape with Hanan winning 17-11. Hedensten finished the season at 25-4.
Senior Hoffman lost 1-0 to Jaxon Behm (ACGC) in the 220-pound quarterfinals and 4-1 to Colton Lindquist (West Central Area) in the consolation round. Hoffman (12-3) was a two-time state meet entrant.
Archer, a Westfield junior making his tournament debut, lost to the No. 2 rated wrestler at 182 pounds Nathaniel Kisgen (West Central Area) by an early pin. Archer came back with a 10-5 victory over Isaac Busse (Howard Lake-WW).
In the fifth place match, Archer steadily built a lead on Nick Frank (Blue Earth Area), a fellow Section 2A competitor. Archer was up 2-1 after one. Went ahead 4-1 with a penalty point and escape in the second, and added a pair of take downs in the third for an 8-3 victory to take fifth place honors. Archer ends the season at 26-6)
Enter your number to get our free mobile app
I assume tigers and razorbacks are among the animals that are not allowed as pets in Rochester. See what others people aren't allow to have.
Animals You Aren't Allowed to Have as a Pet in Rochester, Minnesota
Below are the animals that we are not allowed to own as pets here in Rochester, Minnesota according to the City of Rochester Code of Ordinances under
Sec. 3-1-4. - Prohibited wild animal
.