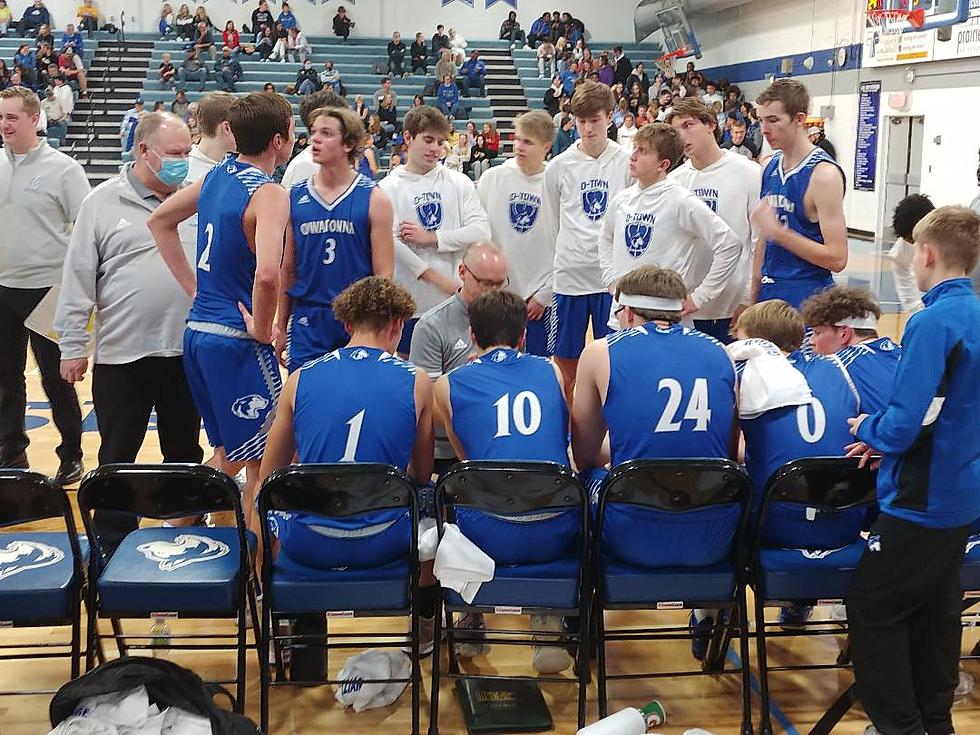 Owatonna Basketball Closes in on Big Nine Title After Road Win
Roy Koenig/TSM
There was a strong consensus that Wednesday's boys basketball game at Rochester Mayo would be a challenge for Big Nine leading Owatonna. Huskies coach Josh Williams has repeatedly said the Spartans are a good team. OHS beat a depleted Mayo squad 73-52 on January 6.
KRFO broadcaster Derek Thada pointed out that Mayo had just knocked off third-place Mankato East 61-49 and played second-place Mankato West to a four-point loss. The game didn't disappoint as Owatonna prevailed 70-65 to run their conference record to 17-0.
OHS led 29-28 at the half and had key plays from multiple players down the stretch. Blake Burmeister hit a three pointer for a 60-53 lead late. The Spartans responded with a 7-0 run to tie the contest at 60-60.
With the score 64-64, Evan Dushek hit a shot with 40 seconds left for a 66-64 advantage. With 22 seconds to go, Brayden Williams hit free throws for a 68-65 lead.
After Mayo missed a three with less than five seconds remaining, Williams hit two more free throws for the 70-65 final score.
Owatonna has a four-game lead atop the Big Nine standings with five games to go. That points toward Friday's game at Faribault as a chance for the Huskies to secure at least a tie for the conference title. Owatonna's last Big Nine title came in the 2010-2011 season. OHS has won six titles.
Friday's game will be heard on AM 1390 KRFO and 94.7 FM. Tip is scheduled for 7:30 pm.
Mankato West is the defending conference champ. Five teams have won at least a piece of the Big Nine title over the last six seasons.
Owatonna boys basketball remaining schedule:
Friday, February 18 at Faribault
Tuesday, February 22 at Rochester JM
Thursday, February 24 versus Mankato West at OHS
Wednesday, March 2 at Mankato East
Friday, March 4 versus Red Wing at OHS
Owatonna's Big Nine boys basketball titles:
1978-79 (shared with Albert Lea)
1987-88 (shared with Austin)
1988-89
1989-90
2006-07 (shared with Mankato West)
2010-11
Recent Big Nine boys basketball champs:
2015-16: Red Wing, Rochester John Marshall
2016-17: John Marshall
2017-18: Austin, John Marshall
2018-19: Austin, Mankato East
2019-20: Mankato East
2020-21: Mankato West
Enter your number to get our free mobile app
12 Celebrities Who Have Been Patients at Mayo Clinic in Rochester, Minnesota
When you are one of the best hospitals in the world, you are going to attract some celebrities. The Mayo Clinic in Rochester, Minnesota has seen quite a few throughout its history.