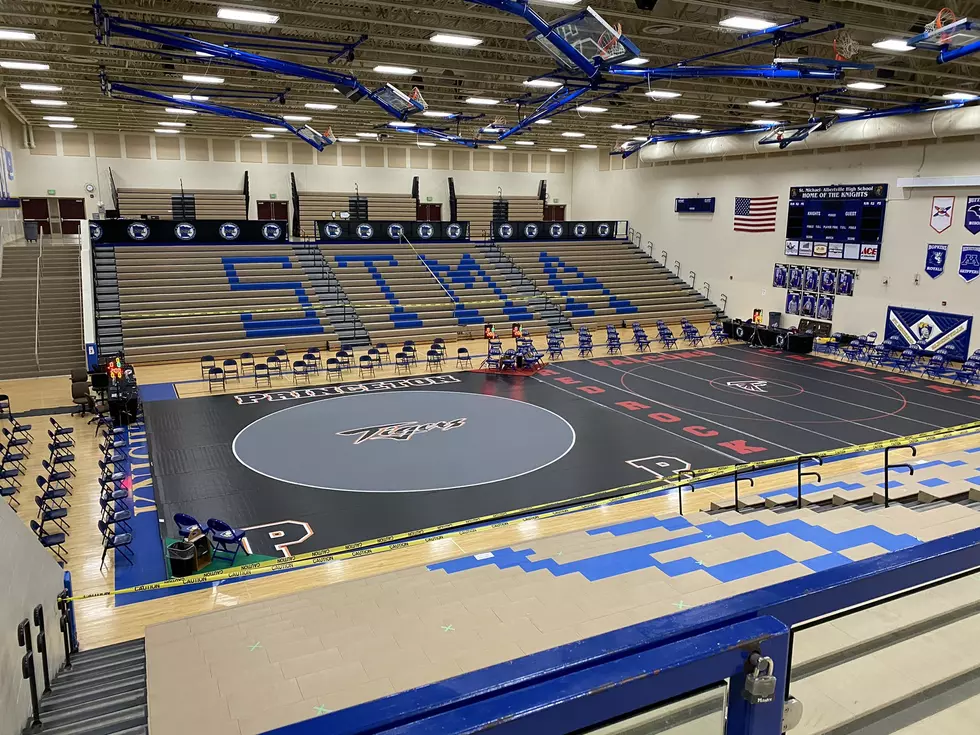 Owatonna's Johnson Wins State Title
@StmaAd
The state high school wrestling tournament has taken on a different look and an altered format in 2021. Each class gets one day of competition at St. Michael-Albertville High School. Teams were narrowed down to the top four a couple of weeks ago. Individual brackets are limited to eight, rather than the 16-wrestler brackets that normally grind out at Xcel Energy Center in downtown St. Paul.
Owatonna has three wrestlers at the state finals on Thursday, March 25 with sophomore Cael Robb, junior Landen Johnson, and senior Matt Seykora. Local Class A wrestlers hit the mat Saturday, March 27 including Medford's Tommy Elwood (eighth grader), Josiah Hedensten (senior) and Brennon Hoffman (senior). Westfield junior Tyler Archer also competes Saturday.
Cael Robb (No. 3 rated, sophomore, OHS, 25-4) Sixth Place
Lost by fall at 2:51 to Landon Nebel, (No. 8, sophomore, Edina, 33-4)
Win 6-3 over Sam Bethke (sophomore, Stillwater, 26-9)
Lost vs Spencer Johnson (No. 6, junior, Sartell-St. Stephen, 28-3)
Landen Johnson (No. 1, junior, OHS, 27-1) STATE CHAMP
Win by pin at 1:35 vs Elijah Madimba (senior, Coon Rapids, 22-7)
Win 6-1 over Adam Cherne (sophomore, Wayzata, 25-6)
Win 5-4 over Antony Tuttle (No. 2, junior, Stillwater, 34-0) - Finals - After a scoreless first period, Johnson got an escape in the second. He built the lead to 3-0 with two near fall points in the third. Tutle came back with an escape and take down to tie the bout at 3-3. Johnson got the winning points with a reversal and allowed a late escape for the 5-4 final.
Matt Seykora (senior, OHS, 5-5)
Lost by tech fall 23-8 vs Max McEnelly (No. 1, sophomore, 33-0)
Lost by fall at 3:55 to Mathew Sloan (junior, White Bear Lake Area, 29-5)
Class AAA team tournament, semifinals
No. 1 seed Shakopee 34, No. 4 Anoka 25
No. 3 St. Michael-Albertville 31, No. 2 Stillwater 27
Finals
No. 1 Shakopee 30, No. 3 St. Michael-Albertville 24 - Shakopee won the final six weights to capture their third straight state title and finish the season 26-0.
Enter your number to get our free mobile app
16 Things That We Now Do Differently Thanks to the Pandemic
When our world experienced COVID, everything changed and we've got the facts to prove it. According to the New York Times and a study done by Vision Direct, here are 16 things that we are doing differently today as a result of the pandemic.