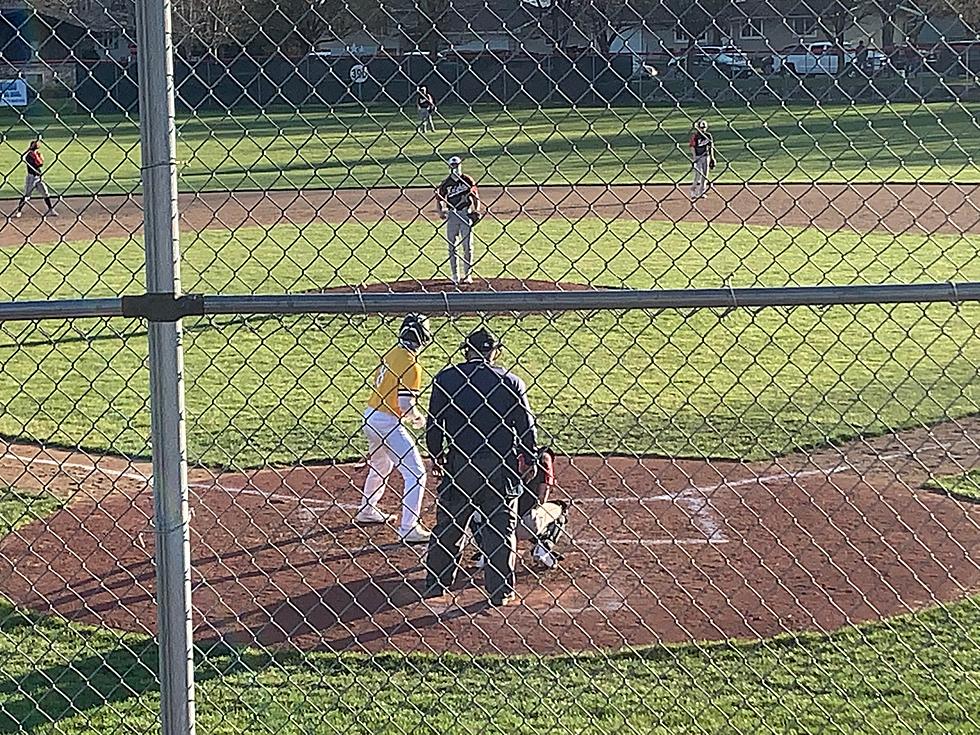 Kenyon-Wanamingo Baseball Ends Perfect Week
Kenyon-Wanamingo Hosted Medford Friday. Photo by Gordy Kosfeld
The Kenyon-Wanamingo Knights baseball team started their season with three wins this week.  The Knights defeated the Medford Tigers 15-5 in 5 innings tonight following victories over Lake City Thursday and Triton Monday.
The win Thursday was 7-3 at Lake City and 6-4 Monday at home against the Cobras.
In the Medford contest Kenyon-Wanamingo gave up a couple first inning runs before they collected 8 runs of their own.  After a line out to start the game pitch Gavin Sommer walked, designated hitter Owen Hilke clubbed a single, Luke Berg hammered a RBI single.  Second baseman Trevor Steberg walked to load the bases.  Alex Vold walked to get an RBI.  Alec Johnson grounded out scoring another run.
Bray Olson had a 2 RBI single.  Jaedon Johnson was hit by a pitch, Tyler Craig clubbed an RBI single, Sommer hit a ball to left field resulting in an error and the Knights were off to the races.
In a seven run third inning Olson singled, Jaedon Johnson doubled, Sommer and Hilke hit back to back RBI singles.  Berg and Steberg clubbed back to back singles.  Vold and Alec Johnson reached on errors.
Jaeden Johnson scored on a Paul Kortsch single.
Sommer went the first four innings striking out 8 Medford batters, walking two, hitting a batter and giving up two hits.  He allowed 1 earned run and two runs total.
Bray Olson pitched in the 5th, struck out two, walked one, gave up two hits and 3 runs, 2 were earned.
The Knights are scheduled to host Kasson-Mantorville Monday.  Medford hosts Waterville-Elysian-Morristown Monday.
These are the most popular.  Can you come up with some other names from the Bible?
LOOK: The most popular biblical baby names