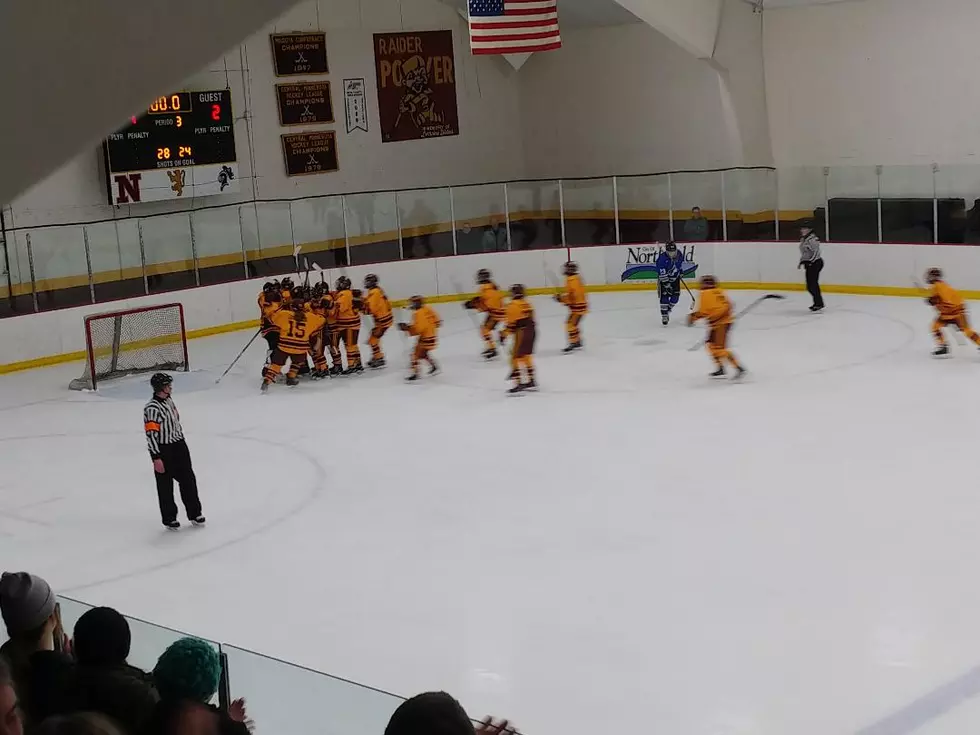 Northfield Reaches Finals; Dodge County Eliminated
Roy Koenig/Townsquare Media
The Lakeville South girls hockey team found out something that Owatonna's skaters were well aware of from personal experience. It is tough to get a puck past Northfield goalie Maggie Malecha. The sophomore netminder stopped 54 shots in Saturday's 2-1 Northfield victory over South at Hasse Arena, sending the Raiders to the Section 1AA championship game. Northfield will play defending section champ Farmington Thursday, February 13 at 5 pm at the Four Seasons Centre in Owatonna with the winner advancing to the state tournament.
In three games against Malecha, Owatonna scored just four goals this season. Northfield beat the Huskies 4-2 Wednesday, February 5 in the section quarterfinals.
Lakeville South had reason for optimism after scoring less than five minutes into Saturday's game. But that was their only tally. Malecha stopped 22 shots in the first frame, 15 in the second and 17 more in the third. The Raiders killed off five penalties. The Raiders tied the game late in the second period as Tove Sorenson scored at 11:20.
Northfield's game-winning goal came by Payton Fox, who had a hat trick against Owatonna in the quarterfinal game and was only recently switched from defense to forward.
In the other semifinal Saturday, Farmington beat Dodge County 8-3 at Maki Arena. The Tigers jumped on the board 46 seconds into the game and added a second goal halfway through the first period. The Wildcats scored 54 seconds into the section period on Elizabeth Fagerlind's goal. The Tigers answered with four goals for a 6-1 lead after two periods.
Farmington put the game into running time with the first two goals of the third. Dodge County scored the final two goals of the game. The Tigers were 3-for-3 on the power play. The Wildcats have four seniors with Kayla Schubert, Kennedy Kraus, Malia Schubert, and Annabel Smith.
Farmington has won four section titles overall including last year. Northfield won back-to-back section titles in Section 1A in 2016 and 2017.
Faribault will play Rochester Lourdes afterward for the Section 1A title at about 7:30 pm Thursday in Owatonna. Lourdes is the defending section champ. The Falcons one trip to state came in 2010.