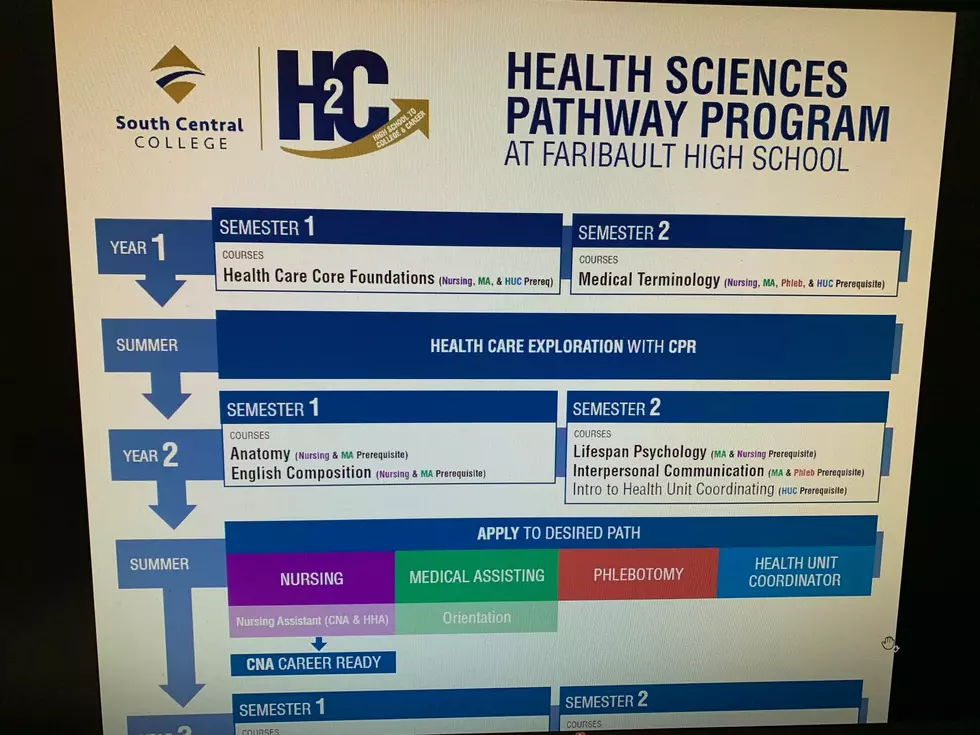 South Central College Announces Program for Faribault High School
South Central College Faribault H2C Program Outline. Photo by Gordy Kosfeld
A  ZOOM  news conference was held Friday where South Central College (SCC) of Faribault revealed a new H2C (High School to College) Health Sciences Pathway Program for Faribault High School.
It's a collaborative effort with Allina Hospital District One and Owatonna and the Mayo Clinic Rochester joining the first of it's kind program in Minnesota.
Dr. Marsha Danielson, Vice President of Economic Development at SCC started the news conference with the announcement about, " South Central College's first H2C, which stands for High School to College and Career Program which we are introducing for the very first time at Faribault High School."
Dr. Annette Parker, SCC President added, "It's a public-private partnership education model that's focused on college attainment and career readyness to help address local workforce  needs.  The first industry sector which we are rolling out today in H2C is in health sciences and Faribault High School is the first school to have this exciting program option available to their students."
Todd Sesker, Superintendent of Faribault Public Schools told the approximately 40 people tuned in to the ZOOM announcement the collaboration took years to become reality, "The H2C program is high school through college.  Through the program students will be able to simultaneously complete their high school diploma and potentially earn a certificate along the way and progress in the health sciences program at South Central College."
Nort Johnson, Faribault Area Chamber of Commerce President/CEO said, "To be really clear, in five of the six Minnesota regions health care practitioners and health care support is the number one open sector and the biggest need we have in this state by far."
David Albrecht, President of Allina District One Faribault and Owatonna Hospitals said they were the beneficiaries of the program, "The power of this group is we're much better together working on problem solving and together we have strength.  So, I think health care being an infrastructure piece of the vibrancy of the Faribault community this all fits together.  At Allina we are committed to the H2C Program and within our privacy constraints, which are very real, it limits our ability to provide the learning environment and because of our student education policy internally.  We are committed though to develop skilled maps of entry level skills needed to build the H2C curriculum.  We can provide opportunities for faculty to learn about what's happening in advances in career pathways and technology changes."
Danielson added, "While Rice County's underserved populations are experiencing a marked achievement gap at the same time employers are facing a significant skills gap.  Employers want to diversity their workforce to look more like the current community demographics but employees need the entry level skills necessary to contribute as soon as they're employed."
I asked how the program was being funded.  Dr. Parker replied SCC did receive a $75,000 grant but in-kind contributions are also being made.
Superintendent Sesker said, "We could not have done this, absolutely not,  this would not have gotten off the park had that operating levy not been passed."
Johnson echoed those comments saying the Faribault community can be proud because, "It was the entire community that came together.  It was Faribault Public Schools, it was South Central College.  I'm very proud of my chamber membership showing up to vote to make sure that we could have this seven period day to add the capacity to do things like this."
Other panel participants during the announcement stated manufacturing will be the next local sector in the H2C Career Pathways Program.
A partnership is being discussed with Mankato Public Schools in a different career area by SCC which also has a North Mankato campus.
50 Famous Brands That No Longer Exist