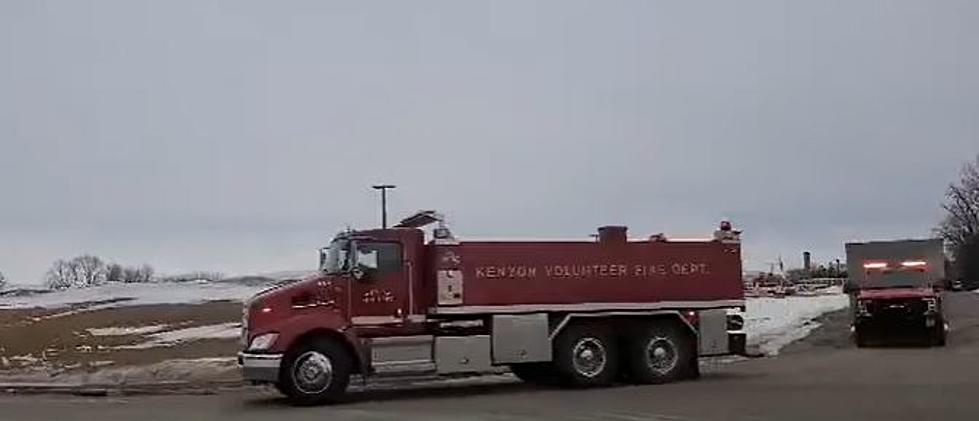 Where's The Fire? Kenyon & Wanamingo Send Off Wrestler Johnson In Small Town Style!
Image Credit: Jamie Sommer via Kenyon-Wanamingo Wrestling
Today is the first day of the Minnesota State High School League individual wrestling tournament. This morning featured wrestlers competing on the floor of the Xcel Energy Center, and the wrestlers have come to Saint Paul from just about every corner of the state. Big towns, small towns, suburbs, and inner-city schools all have wrestlers represented here. One local school, Kenyon Wanamingo, only sent one wrestler Jaedin Johnson at 170 pounds, but his send-off is a great reminder of why small towns rock.
Johnson, who lost his opening match, will have to play cheerleader for the wrestler who beat him to win his next match to guarantee he gets to wrestle again, was sent off by what appears to be the entire fire departments of both Kenyon and Wanamingo yesterday. Check this out!
Not one, or two, three, four, or five fire trucks and their crews were there to send off Jaedin, but 6 SIX trucks! Lights and sirens going, all in the name of showing Jaedin just how proud the community is of his accomplishments.
I'm sure no matter the results that come to him up here in Saint Paul this weekend, he will be welcomed back in and celebrated just the same.
It's moments like this, that showcase just how special it is to grow up in a small town, whether here in Southern Minnesota, or other areas of the state.
To the crews that took the time to fire up those engines, turn on the lights and sirens, and drive Jaedin in style out of town, thank you.
This Rural Southern Minnesota 'Oasis' Sits on 55+ Acres
A home just outside of Mankato is offering someone a private 'oasis' away from city living. Check out what you can get for $3.3 million at 105 Tami Court in Mankato, MN
10 Painfully True Phases of Spring in Minnesota
Spring fakes us out every year in Minnesota. It feels like spring and then we get snow dumped on us.