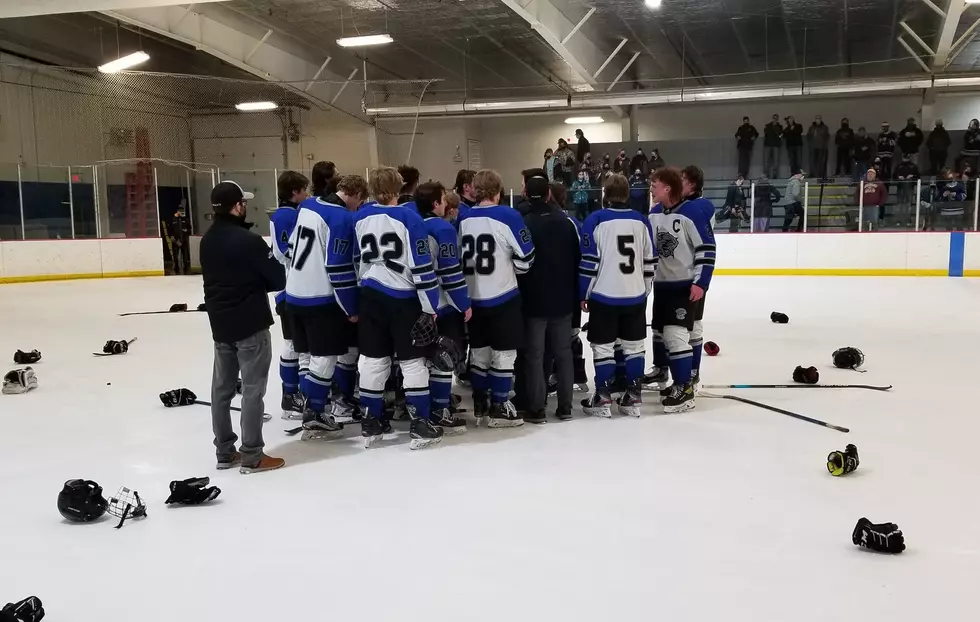 Dodge County Boys Hockey in Class A State Title Game
@KM_Activities
The Dodge County Wildcats will be playing for the Class A State Championship Saturday evening at Xcel Energy Center in St. Paul.  The Wildcats took down #4 seed Little Falls 4-1 in Semifinals action today.  Saturday they face Gentry Academy at 6:00 p.m.
Junior Brody Lamb followed his incredible 6 goal performance against Hermantown in the Quarterfinals with a hat trick against Little Falls.  Lamb leads the state with 51 goals in 23 games.  He is also 4th in the state with 65 assists and leads the state in total points with 86.
The Wildcats are 19-3-1 now while Little Falls fell to 14-5-1.  I remember saying when the seed was announced, none for Dodge County, that I was scratching my bald head.
This Dodge County team defeated Little Falls 3-2 in early March on the road.  They tied a very good Northfield (Class 2A) team 5-5 in their season opener in Kasson.  Fell to #2 Class 2A ranked Maple Grove 12-1 on to road.  Lost to Rochester Mayo (2A) 4-3 at home and were defeated 8-7 by St. Cloud Cathedral in overtime in St. Cloud.
Cathedral was the only Class A team they lost to.
COVID did claim most of the starters on the Hermantown team in the first round but you still have to perform and Dodge County has certainly made the most of their first trip to state.
Here are some statistics from the game.  Little Falls outshot Dodge County 34 to 23.  Lamb had 3 goals and an assist on 9 shots.  Even strength goal, power play goal and empty net goal.
Senior Charlie Blaisdell scored the Wildcats first goal after Little Falls opened the scoring with 20 seconds to go in the first period.  Blaisdell's goal came at 6:10 of the second period assisted by Lamb and junior Gavin Giesler.
Lamb scored on a power play at 10:01 assisted by junior Matt Donovan to give the Wildcats a 2-1 lead going into the third period.
Lamb scored 12:04 into the final period with assists to Giesler and Donovan.  Lamb collected his hat trick on a empty net goal with 1:06 to go in the game.
The Flyers won 37 of 60 faceoffs while the Wildcats secured 23 of the 60.  Donovan was 17 of 23 winning faceoffs.
Gentry Academy was ranked #1 in the Let's Play Hockey Class A boys hockey poll but received the #2 seed in the tournament.
Gentry Academy is 18-0.  The Stars defeated East Grand Forks 5-3 in the other Semifinals contest today.
Gentry Academy is located in Vadnais Heights, a St. Paul suburb.
Check these out.
CHECK IT OUT: 100 sports records and the stories behind them