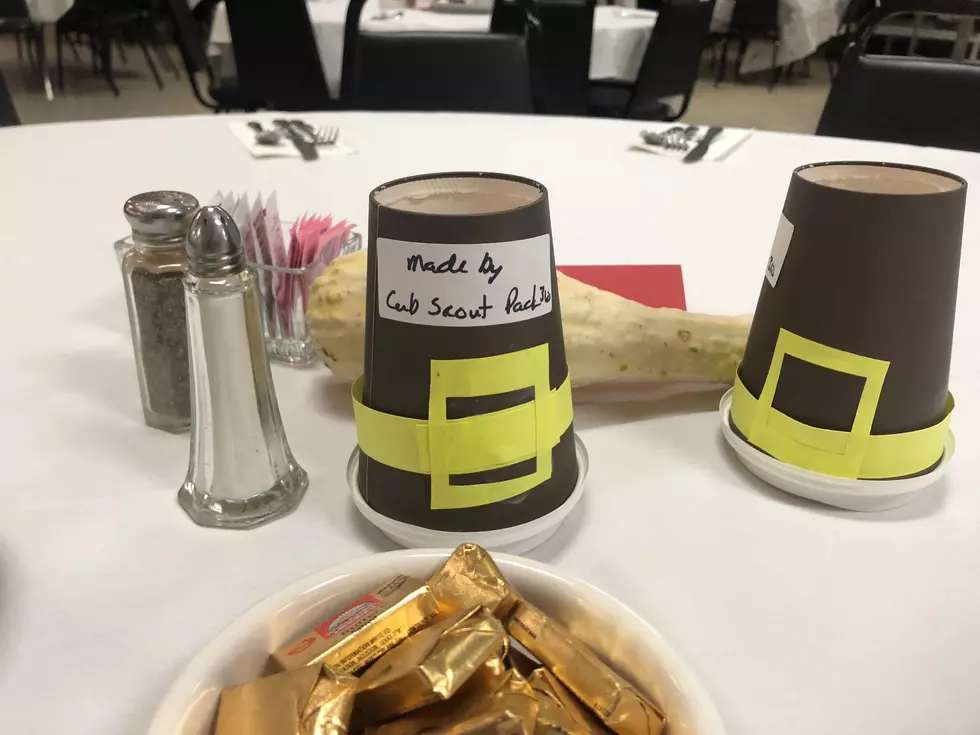 Faribault Community Thanksgiving Dinner Tradition Continues
Faribault Thanksgiving Cub Scout Table Settings. 2018 Photo by Gordy Kosfeld
Since 1986 there has been a free Thanksgiving Day dinner served in Faribault for anyone who wants to attend.
Several years after its start by Mel and Jerry Hlady meal deliveries were also made for those who wanted the service.
Meal preparation and serving has been held at McNamara's (now Boxer's) downtown, Faribault Middle School, Faribault High School, American Legion and now the Eagles Club on the south side of Highway 60 West.
Coming out of the COVID pandemic last year there were still a few precautions being taken.  Those are completely lifted this year.
Organizers Laura and Travis McColley were guests on today's KDHL AM Minnesota program.  They shared details about the event.
People who would like a meal delivered should phone Buckham West at 332-7357 by Noon, Wednesday, November 23, 2022.
If you would like to assist in meal preparation Wednesday evening at 6:00 p.m. go to the Eagles where you can assist with turkey carving and potato peeling.  Please bring your own potato peeler.
Thanksgiving Day volunteers are also needed.  Here are the times to assist on that day.
9:00 a.m.  Kitchen Helpers for more meal preparation including making the turkey sandwiches people get to take home.
10:30 a.m. Meals for Home Delivery and Meal Servers at the Eagles for the Dinner.
11:00 a.m. to 2:00 p.m. Thanksgiving Day FREE Meal is served.  The dine-in event includes someone bringing a meal to the table people enjoy their meal.
2:00 p.m. to 3:00 p.m. Volunteers are needed to assist with clean up.
Donations for the event are welcome in the form of cash or checks payable to the Faribault Foundation which is a 501(c) (3) organization.
Laura emphasized how much they appreciated Foundation Executive Director Kymn Anderson's assistance in securing some of the food donations toward the event.
Non-perishable food donations are also appreciated and will be given to the local food shelf.
The McColleys speculated up to 50 volunteers help pull the event off each year with no sign up sheets.
People just show up to help.  It's a system that has obviously worked in Faribault for decades but other communities have attempted to replicate it with no success.
It's one of the reasons I enjoy living in Faribault.
The big hearts displayed during the appropriately named Faribault Community Free Thanksgiving Dinner where community indeed does serve community.
Remember all Minnesota State Parks will be open for FREE on Friday, November 25, 2022 so we can get moving and lose some of the calories gained on Thanksgiving.
There are 75 Minnesota State Parks.
Most Visited State Parks In Minnesota: Is Your Favorite in the List?
Minnesota has 75 beautiful state parks. The parks have an average of 9,700,000 visitors each year. Interestingly enough, nearly 19% of park visitors come from other states and countries, according to the
Minnesota Department of Natural Resources.
Now, my favorite State Park is Jay Cooke in Carlton, MN, but it did not break into the top 5.