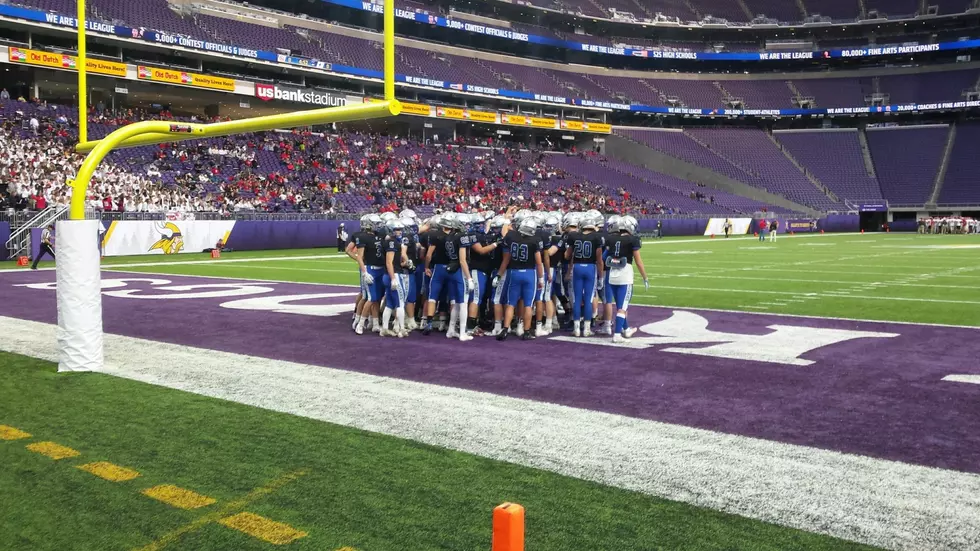 State Football Preview: Owatonna vs St. Thomas Academy
Rich Will/Townsquare Media (2018)
Saturday's state quarterfinal football game between Owatonna and St. Thomas Academy is a rematch, of sorts, from last year's Prep Bowl showdown won by the Huskie 14-3. OHS graduated Jason Williamson, much to STA coach Dan O'Brien's relief. The Cadets also graduated their top running back, but the name of who carries the ball for them doesn't change as Brendan McFadden's younger brother Danny is now their go-to player.
The teams meet Saturday, November 9 at Woodbury High School for a 12 pm kickoff. Coverage can be heard on AM 1390 KRFO and on the free downloadable KRFO app.
Owatonna has gone to a much more balanced attack. O'Brien says the Cadets haven't seen a team with that many quality options at receiver, "Jason Williamson is now over at the University of Minnesota. And I'm certainly grateful for that." O'Brien hopes to be able to stop Owatonna's run game, but knows that would create other problems, "That may play into Owatonna's hand a little bit with the four receivers that Owatonna has. We haven't seen a receiving that's as good as theirs is."
OHS stills rushed for more yards (237 per game during the regular season) than they threw for (175). Part of that reason was Owatonna built such a big lead by the second half in most of their games, the passing playbook was left in the locker room.
Huskies coach Jeff Williams knows that the Cadets preference is to run the ball, but teams have not had much success doing that against Owatonna, "That's what we pride ourselves on. We've got a series of stunts and different front looks that we can give them that hopefully will slow them down, make their line think a little bit. By and large, its just about winning the line of scrimmage."
The Cadets average 236 yards rushing and just 86 yards passing per game. McFadden has rushed for 114 yards per game and 13 touchdowns on the season. St. Thomas Academy (9-1) lost 20-0 to state-tournament team Chaska in week eight of the season. Before then, STA had allowed one or fewer scores in six of their seven games, winning four by shutout.
Cadet wins include a pair over state tournament teams Coon Rapids (34-0) and Mahtomedi (38-0). They have outscored their two playoff opponents 77-7.
Owatonna (10-0) has outscored their postseason foes 85-6 after holding five regular season teams to one score or less with a pair of shutouts.
OHS senior linebacker Isaac Gefre said has rallied together well to make another run through the playoffs, "Everyone believes in each other and has got each other's back. We knew we lost a lot of good guys but we knew we had some talent in our class too."
This year marks Owatonna's ninth state tournament trip with three titles. STA is making their 24th state appearance and has made it to the title game five times, winning the championship in 1975.
The winner advances to US Bank Stadium Saturday, November 16 for a 7 pm game. Their opponent will be either Elk River or Moorhead who play Saturday in Monticello. The Huskies have faced the Elks in the state tournament three straight years. Elk River beat OHS in the 2016 semifinals. Owatonna beat the Elks in the 2017 championship and in last year's semifinals.
On the other side of the Class 5-A bracket, Spring Lake Park plays Coon Rapids and Chaska meets Mahtomedi. All the quarterfinal games are noon kick offs on Saturday.