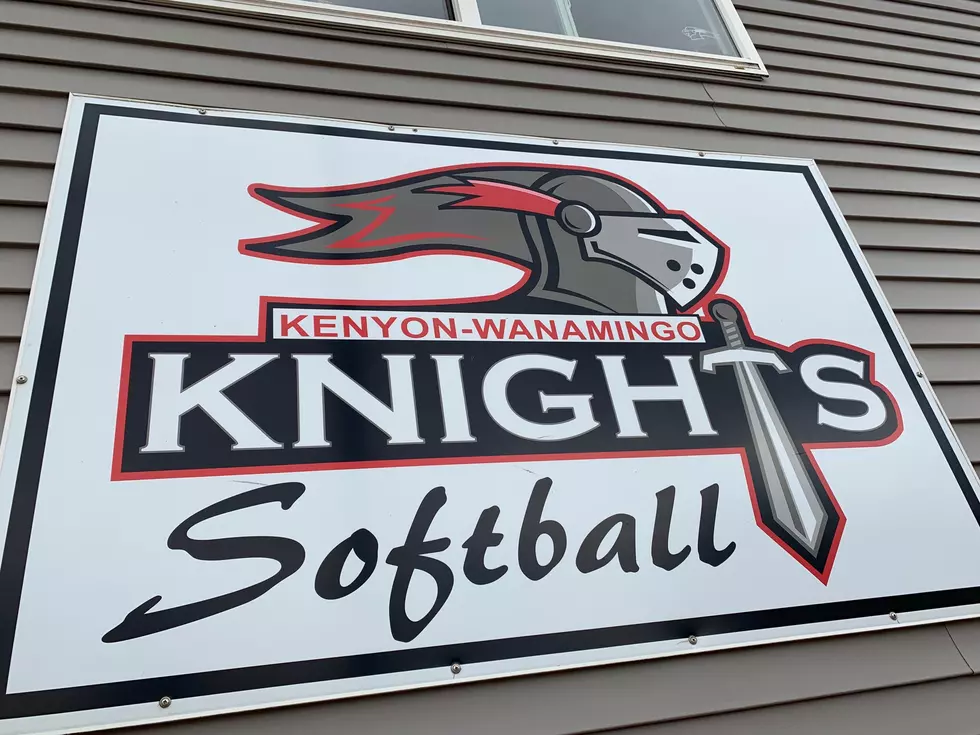 USC Softball Pitcher Holds Down Kenyon-Wanamingo
Kenyon-Wanamingo Softball Crows Nest Sign. Photo by Gordy Kosfeld
The United South Central Rebels defeated Kenyon-Wanamingo 7-3 in fastpitch softball action Wednesday in Wanamingo.
The Knights were able to scratch out single runs in the first, sixth and seventh innings while the Rebels put crooked numbers on the scoreboard in the 4th and 6th innings and added an insurance run in the seventh.
Eighth grade pitcher Mariah Anderson fanned 11 K-W batters, walked 2, allowing 5 hits in the Gopher Conference contest.
Kenyon-Wanamingo sophmore Josie Flom struck out 5, walked 1, allowed 10 hits to United South Central.  Flom retired 9 of 10 batters through the first three innings.
Ivette Mendoza had two hits including a double.  Flom collected two hits.  Lydia Schaeffer walked twice and scored both times.
Vanessa Bartel clubbed a RBI triple in the final inning for the Knights.
K-W is at New Richland-Hartland-Ellendale-Geneva Thursday 4:30 p.m. while USC hosts Blooming Prairie.
In other Gopher Conference games Medford hosts Maple River, Bethlehem Academy at Waterville-Elysian-Morristown, J-W-P at Randolph, Triton at GMLOK in a non-conference game.  All are 4:30 p.m. starts.
The Rebels received votes in the latest Minnesota Fastpitch Coaches Association rankings in Class A.  They were coming off a 8-0 loss Monday to Bethlehem Academy in Faribault.
Other reported Thursday softball scores:
Faribault 5  Stewartville 4
Mankato East 3  Maple Grove 2
Mankato West 15  Albert Lea 0
Rosemount 8  Prior Lake 2
Shakopee 7  Farmington 6
Eastview 6  Burnsville 5
Here are other games scheduled Thursday around the area.
Faribault at Rochester Century 4:30 p.m.
Lakeville North at Shakopee 5:30 p.m. and 7:30 p.m.
Farmington at Apple Valley 6:00 p.m.
Lakeville South at Rosemount 4:30 p.m.
Burnsville at Eagan 4:00 p.m.
LeSueur-Henderson at Sibley East 7:00 p.m.
Rochester Lourdes at Zumbrota-Mazeppa 6:00 p.m.
Goodhue at Zumbrota-Mazeppa  5:00 p.m.
Mankato East at Owatonna 6:00 p.m.
Belle Plaine at Norwood-Young America DH starts 4:30 p.m.
Winona at Northfield 5:00 p.m.
Byron at Pine Island 5:00 p.m.
Red Wing at Mankato West 5:00 p.m.
Cannon Falls at Lake City 5:00 p.m.
Southland at Lewiston-Altura 5:00 p.m.
Mayer Lutheran at Tri-City United DH starts 4:00 p.m.
Austin at John Marshall 5:00 p.m.
Albert Lea at Rochester Mayo 5:00 p.m.
Cotter at Caledonia/Spring Grove 4:00 p.m.
P-E-M at D-E  4:00 p.m.
Fillmore Central/Lanesboro at LaCrescent 4:00 p.m.
Mabel-Canton at Lyle-Pacelli (Todd Park Austin) 4:30 p.m.
Jordan at Southwest Christian 4:00 p.m.
Do you remember any of these?
LOOK: Biggest underdog victories in March Madness
Every spring, legions of sports fans turn their attention to college basketball when
March Madness
takes the national spotlight. Using aggregated Associated Press data, BestOdds has come up with 10 of the biggest—and most unlikely—underdog wins in March Madness history.